Aconitum (Monkshood)
at Digging Dog
Including Aconitum cammarum, Aconitum carmichaelii, Aconitum fischeri, Aconitum henryi, and Aconitum x cammarum

Aconitum
Monkshood
First cultivated in the mid-1500s, Aconitum derivatives were used as both a medicine and a poison, and an unwanted husband might have easily met his end while drinking his dear wife's tonic. Simply Medieval! Leaves, stems and roots are poisonous, but the stately Aconitum still deserves a place in our gardens because of the unusual late season blooms it hoists in masses on stalwart stems.
An excellent cut flower, unique for its large, draped sepal, Aconitum loves moist, but not wet soils, cool summer nights, and protection from the heat of the day. Perfect in the border or at woodland's edge, their bold presence makes an engaging companion to Anemone, Helenium and late blooming Persicaria.
View a slideshow of plant images from this genus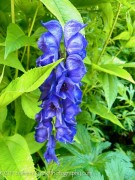 A stockier, dignified cultivar that doesn't need staking, this Aconitum's deep blue-violet spires are narrow and tapered. Helmetlike flowers line the straight, sturdy stems, each central shaft first showing color, than the side spikes following suit. Anchored by a compact, bushy mass of polished and narrowly fingered, dark forest greenery, 'Bressingham Spire's cool-colored floral display soothes Centaurea macrocephala's sun-struck blooms.
Blooms June–August.
Size: 2' 0"–3' 0" high x 18" wide; hardy to zone 4.
Aconitum x cammarum 'Bressingham Spire' (P-1243)
SOLD OUT!
Email me when this plant is available
A captivating departure from our solid-hued Monkshood selections, 'Eleonora' offers pretty bicolored creamy white helmet-style blooms ornamented with delicate violet-blue edges on openly branched terminal panicles. The intensely segmented, deep green leaves are smooth and shiny, and tend to be lax at the base before climbing steadfast straight-backed stems, while the light-colored flowers look their best when showcased against a dark foil.
Blooms June–August.
Size: 3-1/4' high x 18" wide; hardy to zone 4.
Aconitum x cammarum 'Eleonora' (P-1787)
Each $9.50
Add to Cart
AVAILABLE SPRING 2018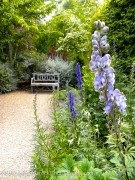 Lavish steel blue shafts are the great reward of this easy-to-cultivate perennial. Cloaking strong stems, the glossy grayish green foliage is deeply divided into narrow fingers. Crocosmia 'Eastern Promise's orange flowers make a satisfying complement to the smoky hue of 'Stainless Steel'.
Blooms mid-June–August.
Size: 3-1/2' high x 18" wide; hardy to zone 4.
Aconitum x cammarum 'Stainless Steel' (P-0870)
Each $9.50
Add to Cart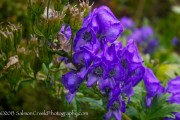 For this fine cut flower's plentiful show of large, vividly violet-hued flowers embellishing tall spikes, and its vigorous stature, many gardeners consider 'Arendsii' to be among the best of the late flowering Aconitums. Broadly segmented, deep green leaves have a lustrous, leathery quality. Plant Kniphofia linearifolia nearby and enjoy a late summer splash of color.
Blooms July–early October.
Size: 3-1/2' high x 18" wide; hardy to zone 4.
Aconitum carmichaelii 'Arendsii' (P-0820)
Each $9.50
Add to Cart
AVAILABLE SPRING 2018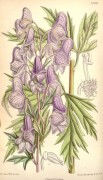 This commanding Chinese denizen has a lot to offer: unyielding medium-sized stature that never needs staking, gleaming verdant foliage and crystal clear late season bloom. Garnishing stiff dark blue-violet spires, the hood-shaped flowers surmount ramrod straight stems wrapped in triclefted green leaves, each further carved by stylish lobes and toothed edges. Aconitum fischeri�s dignified persona is ideal, either for a midborder position flanked withMuhlenbergia r. Undaunted.
Blooms August–early October.
Size: 2' 0"–3' 0" high x 12"–18" wide; hardy to zone 4.
Aconitum fischeri (P-1349)
Each $9.50
Add to Cart
Intense dark indigo-blue hooded blooms densely garnish a unique presentation of lovely large and wide-branching panicles, without the distraction of a dominant central leader. Tapered strong slender stalks and deeply cut, varnished forest green foliage bolster a flowery spectacle that tantalizes the floral trade and keeps our attention sparked through late summer with its architectural seed pod-studded stems. Steeped in grandeur since 1898, when legendary plantsman Maurice Prichard first introduced it, this AGM winning Aconitum can be mingled amongst dusky colored blossoms or the bright yellows of Helianthus 'Capenoch Star'.
Blooms August–September
Size: 3' 0"–4' 0" high x 18"–2' 0" wide; hardy to zone 3.
Aconitum henryi 'Spark's Variety' (P-1788)
Each $9.50
Add to Cart
AVAILABLE SPRING 2018
Strong steeplelike stalks elegantly showcase hooded, close-set ivory white flowers on branching stems. A cool classic look is achieved when illuminated blossoms unfurl above an urbane bushy clump of gleaming deeply lobed, dark green leaves.
One of the first Aconitums to bloom, this 1958 Alan Bloom selection can be affiliated with other beauties such as Phlomis 'Amazone' and Heuchera 'Wendy'.
Zone 3/4.
Blooms May–June.
Size: 2' 0"–3' 0" high x 12"–15" wide. 3/4
Aconitum septentrionale 'Ivorine' (P-1683)
SOLD OUT!
Email me when this plant is available
Current Staff's Favorite Plant