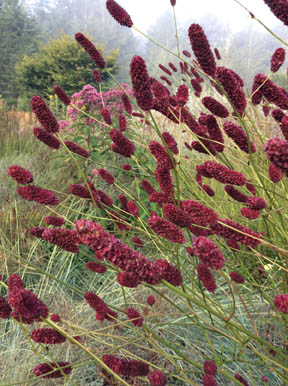 Our featured plant: Sanguisorba officinalis
August All-Stars, rejuvenate your garden, long & late bloomers!
Rejuvenate your August garden with long & late blooming plants.
If the dog days of summer have left your garden looking a little worn out, you may wish to 'dig in' some of this newsletter's late flowering plants. These versatile top-performing plants sprout blossoms, leaves and statures in all different sizes, shapes and shades. A few simple maintenance techniques will help your garden appear more vigorous towards the end of the growing season. A well-rotted compost, utilized as a top dressing, not only reduces water requirements, but generally makes it easier for plants to maintain a perky appearance. There's still time in warmer climates to trim back early blooming perennials, such as many Nepetas and Geraniums. This ensures a winsome habit and myriad flowers that will keep on coming 'til the first frost. In cooler zones, a July pruning is best, so you could make a mental note for next year.
Our next guided Saturday Strolls is September 16th., followed by October 7th. We hope you'll come visit us this summer.
Digging Dog's Mid August 2017 Newsletter Link