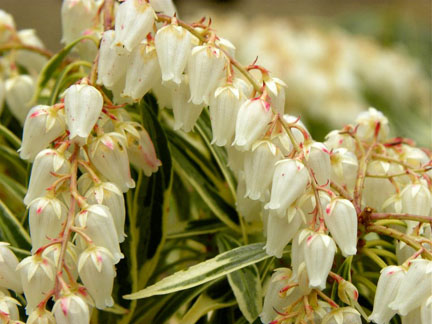 Our featured plant: Pieris japonica 'Little Heath'
Digging Dog's Gift Quality Collection
This year's seasonal offerings feature an eclectic array of horticultural treasures that promise a little something for everyone, sure to thrill those gardeners on your shopping list. Our selection of easily cultivated plants can be showcased in diverse garden settings across the country. We wish you a jolly merrymaking season!
Go-Green Holiday Sale!
Stumped by what to gift those folks that already have enough ""stuff""? How about giving a green living present and take advantage of our Go-Green Holiday Sale! Free gift wrapping to boot!
Enjoy a special savings when you order a minimum of $50.00 in plants, and receive a 10% discount, or order $100.00 in plants, and receive a 15% discount. Plus, we'll wrap them in silver & tie them with a bow for FREE! If you are not ready for a plant delivery, you can purchase a $100 Gift Certificate for 15% off, which means $100.00 worth of plants for only $85.00 (They make fantastic Christmas presents - don't forget one for yourself....cash it in next spring" Our online sale lasts for 3 weeks only, beginning December 2 and ending December 17. Mention code ""Go-Green 2017"" in the customer comments section of the order confirmation page to receive the discount. All orders must be shipped by December 19. All ordered items must be in-stock. For gift-wrap, place code ""Gift-wrap"" in the comments box. Don't worry, we'll deduct the sale discount when we download your order.
Digging Dog's Early December 2017 Newsletter Link
Saturday Strolls & Plant Chats 2018!
Saturdays at 2 p.m. July 14th and 28th, August 18th, and September 15th. Stroll with Horticulturalist Deborah Whigham, sip iced tea, nibble on tasty snacks & take home helpful gardening tips & tricks!
Current Staff's Favorite Plant