Icons:

= New/featured for 2018

= Full Sun

= Partial shade

= Full shade

= Drought tolerant
(PPAF) = Propagation of this plant prohibited without a license.
Saturday Strolls & Plant Chats 2018!
Saturdays at 2 p…MORE
Current Staff's Favorite Plant
Digging Dog Nursery
a retail and mail order plant nursery specializing in unusual and hard to find perennials, ornamental grasses, shrubs, trees, and vines.
31101 Middle Ridge Rd.
Albion, CA 95410
phone:
(707) 937-1130
fax:
(707) 937-2480
Visit Us!
Summer Hours:
Wednesday–Saturday: 10am–4pm
2018 Catalog
Order the 2018 Catalog printed on genuine paper for $2.
Add to Cart
Etchings & Gift Cards
By Marsha Mello
Marsha has done our logo, cover and plant illustrations for the past 14 years, but she is also a printmaker, selling her detailed etchings in galleries on the Northern California coast and at the Monterey Bay Aquarium. Her prints are done in the age-old intaglio style: hand-drawn on copper plates, individually inked and printed on a press, then signed and numbered. Printed on good quality archival paper, each etching is mounted on foam-core board and wrapped in acetate for protection. There is a description of the etching process on the back, along with a Certificate of Authenticity. These plant etchings are limited editions of 100 prints each.
Clematis Macropetala Etching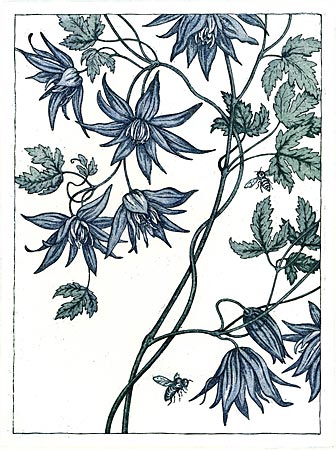 Image size: 4-½" x 6"
Wrapped size: 8" x 10"
Clematis Macropetala Etching . Price: $38.00
Add to Cart
Orchid Etching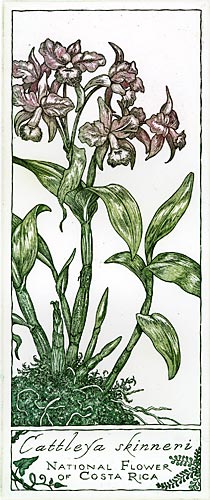 Image size: 3-½" x 8-½"
Wrapped size: 7" x 12"
Orchid Etching . Price: $38.00
Add to Cart
Papaver Orientale Etching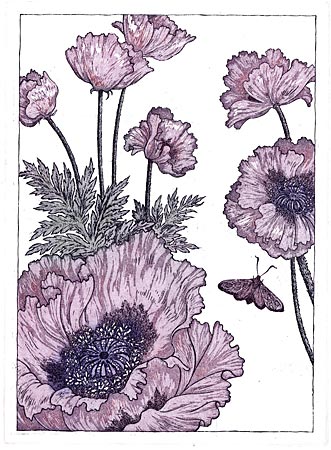 Image size: 4-½" x 6"
Wrapped size: 8" x 10"
Papaver Orientale Etching . Price: $38.00
Add to Cart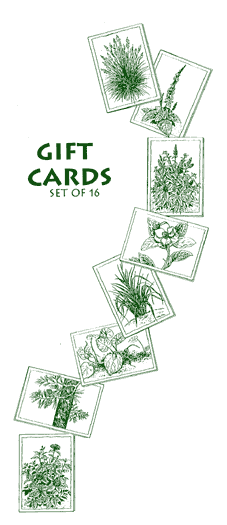 Marsha Mello's elegant drawings have graced the pages of our catalog for years. Now, they also decorate these note cards, providing an artful communiqué for plant lovers. Each set of 16 is tied with sisal and includes matching envelopes and 2 copies each of 8 distinct drawings. Printed in dark forest green ink on cream card stock.
4-1/2" x 6-1/4"; price includes shipping and handling.
Gift card set (N-1001)
Each $18.95
Add to Cart