Grasses at Digging Dog
Acorus to Deschampsia
Including Calamagrostis & Carex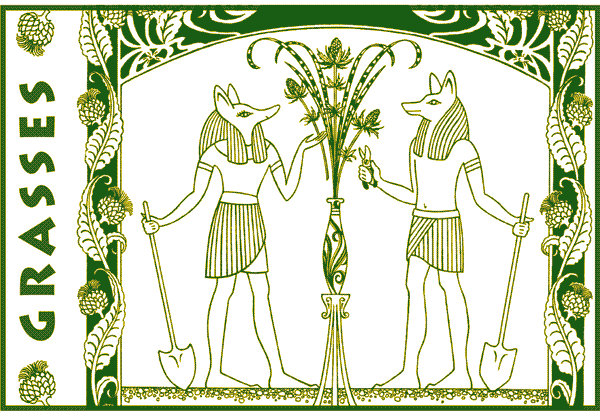 One of the most exciting trends in contemporary American landscaping is the recent availability of a wide variety of ornamental grasses. Grasses offer more than longevity and low maintenance; they bring movement, fall and winter pizzazz, lush volume, texture and line, even sound, to any situation. The design possibilities are mind-boggling!
Plant grasses for a stunning effect in groups by themselves, with wild▀owers for a stylized meadow, as a transition area between surrounding Ůelds or woods and the garden proper, or be even bolder and bring some into the perennial bed for vertical excitement. Think of them as shrub substitutes for hedges and semitransparent screens, as specimens to contrast with rocks and boulders, and by all means, place a few at water's edge. Show grasses to best effect by backlighting, so that every tiny seed and hairlike Ůlament seems illuminated from within. Ornamental grasses are simply unbeatable fresh or dried in arrangements, with ▀owers or by themselves.
To prevent rotting during the rainy season, plant ornamental grasses high enough to ensure drainage away from the base of the plant. Wait until late winter or until they no longer look great, then shear ruthlessly to 4 or 6 inches. Divisions are necessary at least every three years. Once established, many grasses will reward you by being drought and heat resistant.
Please note some of the given bloom times have been extended beyond the actual flowering period to include the interesting dried effect of the inflorescences in winter.
View a slideshow of plant images from this page
Acorus
White-striped Japanese Sweet Flag
Named for the pleasant, pinelike fragrance that emanates from the entire plant, Acorus is neither a grass nor a sedge. This variegated grassy perennial is an unusual member of the Arum family, once used as an aromatic addition to perfumes, gin and beer.
An illustrious, water-loving accent for damp shady borders, shallow water or at pond's edge, its waxy evergreen fans of upright, green flattened blades emerge from slowly creeping rhizomes while boasting neat alabaster striped margins.
Size: 8"–12" high x 18"–2' 0" wide; hardy to zone 5.
Acorus gramineus 'Variegatus' (G-0460)
Each $7.50
Add to Cart
Ampelodesmos
Mauritania Vine Reed
Mauritania Vine Reed/Rope Grass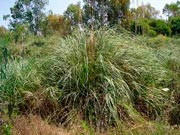 A Mediterranean denizen, this stately grass yields fine textured evergreen blades tough enough to fashion ties, ropes and baskets, and large enough to make an imposing focal point in your mixed border. Lofty upward arching stems race skyward, asserting mostly one-sided pearl-colored panicles above a dark green clump-forming mound, while airy purple-flushed inflorescences invite birds and gardeners alike. Robust Rope Grass maintains its majestic composure throughout the winter and requires a sheltered, sunny position with well-drained soil.
Blooms July–November.
Size: 9' 0" high x 3' 0"–4' 0" wide; hardy to zone 8.
Ampelodesmos mauritanicus (G-0479)
Each $7.75
Add to Cart
This large cosmopolitan genus gleans its name from the Greek word pogon, or beard, alluding to the lustrous hairs that blanket the inflorescences. Closely associated with Schizachyrium, 13 clump-forming warm season Andropogon hail from North America. Many of the garden-worthy Beardgrass are often drought tolerant, and generally characterized by attractive, easily grown sturdy demeanors, late summer blooms plus prismatic autumn color.
Big Bluestem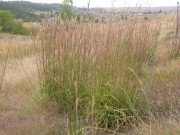 Historically renowned as the sod our ancestors broke their backs busting, Big Bluestem is the most widespread of all the prairie grasses. Its regal and wild color show makes it a must in our garden. Growing to great size, the stand's lush, blue-blushed summer greenery becomes a burgundy and copper glory at first frost. Soaring three-pronged red seed heads beg its other common name, Turkeyfoot.
Reliable, heat tolerant and sturdy, Andropogon gerardii thrives in poorly drained clay to dry sandy soils, and easily transitions the outskirts of your garden into the wild meadow beyond.
Blooms late August–October.
Size: 5' 0"–8' 0" high x 3' 0" wide; hardy to zone 4.
Andropogon gerardii (G-0448)
Each $7.75
Add to Cart
Spotted near Crowley, Texas by John Snowden, acclaimed grass expert and Bluestem Nursery founder, this American native's unwavering fortitude belies its graceful lush-looking silhouette. Thick, straight bluish mauve-hued stalks supporting slim, 3-pronged rubescent inflorescences emerge from large, upright ¼ in. wide powder-blue blades, which broadcast reddish purple, dusky pink, tangerine and copper tones in September. An undemanding color-rich candidate for dry sunny locales, 'Lord Snowden' can be massed or planted as a specimen, and associated with Astrantia 'White Giant' and Gaura 'So White'.
Blooms August–November
Size: 5' 0"–7' 0" high x 4' 0" wide; hardy to zone 3.
Andropogon gerardii 'Lord Snowden's Big Blue' (G-0569)
Each $8.00
Add to Cart
Turkey Foot
This recent Intrinsic Perennial Garden introduction is quickly earning kudos for its spectacular shades of red and long-lived amenable character. August brings rich cardinal red accents to lush dark green blades that define a substantial straight-up clump, while unique threebranched inflorescences with bright red pollen sacs sway above. Strutting fiery scarlet-red and burgundy colors by the first frost, aptly named 'Red October' provides welcome cover for nesting birds and makes a galvanizing addition to a mixed planting, meadow garden or naturalized space. (PPAF)
Blooms July – October.
Size: 5' 0"–6' 0" high x 2' 0" wide; hardy to zone 3.
Andropogon gerardii 'Red October' (G-0539)
Each $8.00
Add to Cart
Bouteloua
Sideoats Grama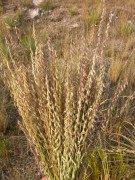 For its distinctive inflorescences, colorful fall foliage and phenomenal drought tolerance, this Midwestern denizen reigns supreme. Purplish oatlike spikelets, uniformly draped along one side of the upright or arching stalks, eventually blanch to a straw hue. Enduring a wide range of soils and difficult sites, Side Oats Grama forms erect, wiry light green clumps that broadcast violet, orange and red autumnal shades.
Planted in drifts, meandering amid other medium statured grasses and smaller perennials, a dramatic statement is yours to enjoy, while the birds and butterflies feast on the fodder.
Blooms June – November.
Size: 2' 0"–3' 0" high x 12" wide; hardy to zone 3.
Bouteloua curtipendula (G-0513)
Each $7.75
Add to Cart
Mosquito Grass
We wish more plants were like this one! This North American native is tough, drought tolerant, and adds delicacy and movement wherever it's placed. Slightly iridescent, Mosquito Grass offers tiny seed heads borne atop thin, wiry stems. Resembling aerial minnows, the inflorescences dart above 1 ft. clumps of dense, narrow blades. Plant them next to a garden seat or steps where they can be enjoyed at close range.
Blooms June–October.
Size: 18" high x 12" wide; hardy to zone 4.
Bouteloua gracilis (G-0002)
Each $7.75
Add to Cart
Blue Gamma Grass
Taller and more energetic than the species, 'Blonde Ambition's dense finely hewn tufts provide a blue-green foil for cut-flower-perfect inflorescences, which grow at 90° angles and summon our attention well into winter. The large chartreuse seed heads broadcast eye-catching platinum blonde shades once they mature, waving like splendid flags atop stiff 2 ½ ft. slender stalks. Discovered by David Salmon of High Country Gardens as a chance sport in a Santa Fe, New Mexico garden, this tough heady grass struts golden brown, orange and red foliar autumn colors and shimmers when interwoven with Sesleria and flanked by Hydrangea paniculata 'Mega Mindy'. (pp#22,048)
Blooms June–November.
Size: 2-1/2'–3' 0" high x 2-1/2'–3' 0" wide; hardy to zone 4.
Bouteloua gracilis 'Blonde Ambition' (G-0538)
Each $8.00
Add to Cart
Originally selected by the USDA for its mighty drought abiding persona, this small statured narrow bladed grass was collected in 1957 on the semi-arid plains south of Hachita, New Mexico. The alluring presentation of delicate reddish purple inflorescences morphs into glittery eyelash- shaped seed heads above a trim close-knit grayish green clump and belies 'Hachita's tough-guy reputation. Appealing to both birds and floral arrangers, Blue Gamma Grass resents poorly drained wet locales, tackles Black Walnut roots, shallow rocky soil, air pollution plus erosion, and can be nestled into the rockery, a more wild venue or employed as a mowable lawn substitute.
Blooms June–October
Size: 12"–20" high x 8"–12" wide; hardy to zone 3.
Bouteloua gracilis 'Hachita' (G-0553)
Each $7.75
Add to Cart
Briza
Rattlesnake Grass
People delight in this Mediterranean native, and its playfully noisy nature has earned it amusing names like cowquakes, didder and dillies; it earns "Rattlesnake" for the rattlelike, heart-shaped inflorescences. On delicate, swaying stems, the small flowers emerge a shimmery green highlighted with red, and dry to a light straw color.
Medium green, finely textured blades form dense, long-lived evergreen clumps, and forgivingly put up with winds, drought and salt spray.
Blooms April–June.
Size: 2' 0" high x 12" wide; hardy to zone 4.
Briza media (G-0087)
Each $7.75
Add to Cart
Extremely tough, undemanding and hardy, this truly all-purpose grass brings bold, erect lines to the garden spectrum.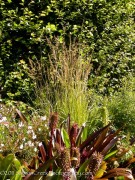 This distinctive newcomer is a variegated form of Calamagrostis 'Karl Foerster' first spotted by Steve Schmidt at American Ornamental Perennials. Showcasing dramatically striped foliage, the medium-sized clumps spring to life as a hefty white central band bordered by narrow green margins embellishes each blade. Topped with an airy aura of rose-tinged green plumes that later take on warm, golden hues, 'Avalanche's straight-up stance forges a compelling specimen, or when planted en masse, a boldly patterned screen. (PPAF)
Blooms May–January.
Size: 5' 0" high x 3' 0" wide. Zone 4/5.
Calamagrostis x acutiflora 'Avalanche' (G-0469)
Each $7.75
Add to Cart
Karl Foerster's Feather Reed Grass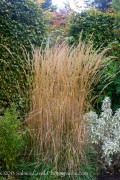 Named for pioneering German nurseryman Karl Foerster, this selection bears loose and airy 12 in. seed heads, which tighten to slender plumes by midsummer. Rising above 2 ft. clumps of narrow green foliage, the inflorescences create an ideal semitransparent veiling effect. Plant with deep green Viburnums to accentuate its golden flowering stems.
Blooms May–January.
Size: 5' 0" high x 3' 0" wide; hardy to zone 5.
Calamagrostis x acutiflora 'Karl Foerster' (G-0003)
Each $7.75
Add to Cart
Korean Feather Reed Grass
Warmed by rosy maroon plumes, Calamagrostis brachytricha is native to the moist woodlands of eastern Asia. The inflorescences stay open and feathery, even when they dry, and eventually pale to an elegant silvery gray. Magical both in an arrangement or outside when the wind blows, the panicles leap from a clump of glossy green, upright and arching blades. This warm season grass exhibits a smaller stature, making it well suited for a container.
Blooms September.
Size: 4' 0" high x 2' 0" wide; hardy to zone 4.
Calamagrostis brachytricha (G-0067)
Each $7.75
Add to Cart
The ultrafine white hairs lining arching medium green blades glisten with dew, while narrow, loosely feathered caramel-colored inflorescences loll above. Smaller-sized than C. x 'Karl Foerster' and well-suited for gardens short on space, this relatively new soft-looking Calamagrostis develops a versatile low maintenance clump that transmutes warm rosy amber hues in autumn. 'Cheju-do' can be featured as an elegant specimen, planted en masse around large shrubs or small trees and looks especially lovely skirting a Japanese Maple.
Blooms August–October
Size: 3' 0"–4' 0" high x 3' 0"–4' 0" wide; hardy to zone 5.
Calamagrostis x 'Cheju-do' (G-0570)
Each $7.75
Add to Cart
Cape Mendocino Reed Grass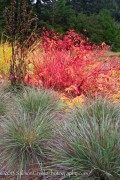 Garnished by violet tinges, low loose mounds of glaucous blue-gray blades generally remain throughout the year and set this cool season California native apart from other North American Calamagrostis species. Slender tapering pinkish purple panicles sojourn just above the relaxed foliage in a lovely fountain-like fashion and by early summer adopt luminous flaxen hues.
Cape Mendocino Reed Grass pouts when it's hot, appreciates summer irrigation and looks artful either as a large-scale ground cover or peppered throughout mixed borders and naturalized meadows.
Blooms May–November.
Size: 18" high x 2' 0" wide; hardy to zone 8.
Calamagrostis foliosa (G-0044)
Each $7.75
Add to Cart
Sedge
A diverse genus comprised of nearly 1000 species, most Carex originate in the moist habitats of temperate climates. Our graceful selections are easy to grow and promise to soften those hard edges in your garden.
Frosted Curls Sedge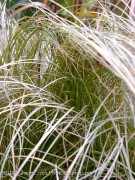 Applauded as one of the most distinctive native New Zealand grasses, this Carex spotlights a frosted fountain of gracefully cascading hairlike blades. The iridescent light green leaves twist their tips and gleam with pewter highlights, while staging a dense evergreen clump that spills over rocks, walls or a favored patio container.
For an especially fluid display, 'Frosted Curls' is best planted en masse on a slope where its trailing foliage appears to flow like water.
Size: 12" high x 12" wide; hardy to zone 7.
Carex albula 'Frosted Curls' (G-0482)
SOLD OUT
Email me when this plant is available
Miniature Variegated Sedge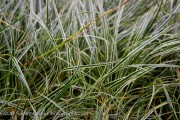 Glistening, dark green slender leaves embellished with crisp white margins and small purplish white flowers on triangular stems hallmark this neatly tufted variegated Sedge. Fully evergreen in milder climates, the sturdy fine textured mound spreads slowly, casting a long lasting sprightly charm upon the rockery, woodland beds or patio pots. 'Snowline' relishes light shade and loose moist soil, withstands tree roots, wards off deer and, if planted closely, makes a picturesque easy to maintain ground cover.
Blooms May.
Size: 9"–15" high x 10"–18" wide; hardy to zone 5.
Carex conica 'Snowline' (G-0533)
Each $7.75
Add to Cart
Berkeley Sedge
We favor Berkeley Sedge for its lush meadow look. Ranging from Washington to California's Monterey coast, this western native's deep green and lustrous, thin evergreen blades elegantly arch out from a clumping base and yield inconspicuous brownish blooms held by lax, wiry stems.
Once established, the fast growing and versatile Carex divulsa can endure an array of factors: some drought, boggy areas, tree roots, sun or shade, and foot traffic, including the four-legged kind. However, regular watering and a trim every 6 months will ensure the most verdant growth. You can space it closely and mow for a turflike effect, plant en masse as a ground cover in a small or large area or create a shady vignette with Euphorbia characias x robbiae and Geranium sinense.
Blooms May–June.
Size: 18"–2' 0" high x 2' 0" wide; hardy to zone 7.
Carex divulsa (G-0449)
Each $7.75
Add to Cart
Kaga Brocade Sedge
Nishiki means "brocade," and it rightly describes the variegated blades of this superb selection, which comes to our country from Japan's Gotemba Nursery. Forming a tidy, fountain-like mound, each slender leaf has a green central stripe emargined in radiant yellow. Long-lived and durable, 'Kaga Nishiki' imparts bright accents to verdant broad-leafed perennials in the border.
Size: 8"–10" high x 18" wide; hardy to zone 6.
Carex dolichostachya 'Kaga Nishiki' (G-0098)
Each $7.75
Add to Cart
Bowles Golden Sedge
This beautiful sedge offers the clearest yellow of any grass, plus a courtly, rounded form. Its compact size is ideal for the rock garden or mixed border. Best of all, the coloring becomes even more brilliant in partial shade.
Use it to enliven the woodland garden, or make a stunning statement by planting it with other golden foliage or with the contrasting leaves of Pulmonaria 'Roy Davidson'. Bowles Golden will become a dense stand in only a few seasons.
Size: 15" high x 18" wide; hardy to zone 5.
Carex elata 'Aurea' (G-0006)
SOLD OUT!
Email me when this plant is available
Solidly colored in clear golden yellows, this Carex's graceful hummock will energize the hohum corners of your garden. With upright and arching, evergreen foliage, 'Knightshayes' requires moisture and bright shade to retain the gilt hues. Try establishing singly or en masse near ponds, streams, in a damp border or even in water, where its glowing accents and reflections are sure to beckon.
Size: 15" high x 18" wide; hardy to zone 5.
Carex elata 'Knightshayes' (G-0096)
SOLD OUT!
Email me when this plant is available
Carnation Grass
With its sea of striking blue, Carnation-like foliage, this handsome Carex is aptly named. Glaucous, narrow blades create a noninvasive, slowly spreading mass. Purple-black spikes appear to float like a subtle mist just above the solid, jointless flowering stems. Easy to establish and indispensable as a low ground cover, Carex flacca tolerates drought, adapts to an array of growing conditions and effectively interweaves a tapestry of Heathers.
Blooms May–June.
Size: 6"–15" high x 12"–15" wide; hardy to zone 4.
Carex flacca (glauca) (G-0099)
Each $7.75
Add to Cart
Reminiscent of Dianthus leaves and noticeably broader than the species, the eye-catching ¾ in. wide ultra-blue blades grow in an upward arching fashion. 'Burton's Blue' produces small purple-black flowers atop its galvanizing more coarsely textured foundation that makes an ideal well-mannered evergreen addition for your rock garden or border. Staged in sweeps, as a walkway edging or tucked between boulders, this adaptable slow spreading selection abides full sun, part shade, drought, alkaline soil and even some salinity.
Blooms May–mid July
Size: 12"–20" high x 10"–15" wide; hardy to zone 4.
Carex flacca 'Burton's Blue' (G-0554)
Each $7.75
Add to Cart
Weeping Brown Sedge
Infused with rich earth tones evoking a Zen-like simplicity, the weeping ultra-fine clump of long and thin, dark chocolate-colored blades sets this mop-top New Zealander apart. Carex flagellifera's easily melded tones and fluid upright arching form brings textural intrigue to containers, the rockery, walls or borders, whether installed as a stand-alone or a sweep. Arresting when juxtaposed against broad greenery, blue-gray foliage or any brightly hued bloom, Weeping Brown Sedge obliges sun, shade, moisture and somewhat dry conditions, and remains evergreen where winters are mild.
Size: 15"–18" high x 2' 0" wide; hardy to zone 6.
Carex flagellifera (Bronze) (G-0532)
SOLD OUT
Email me when this plant is available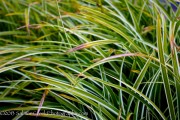 Introduced by Barry Yinger, long-lived 'Ice Dance' comes to us from the woodlands flanking Japan's low-lying mountains. Dark emerald in color, the reflexed, leathery leaves are shiny and heightened by creamy white margins. This tidy evergreen ground cover is not invasive; its spreading rhizomes form a coarsely textured carpet that is somewhat drought tolerant once established.
Size: 12" high x 12" wide; hardy to zone 5.
Carex morrowii 'Ice Dance' (G-0088)
Each $7.75
Add to Cart
Whatever visions the cultivar name may conjure, the thread-like glimmering foliage is sure to champion. Collected by Barry Yinger during a 1970 Japanese excursion, this carefree variegated grass generates a soft looking fountain-shaped mop of longitudinally striped extra narrow green and white foliage that shrugs off deer and readily subdues angular features. 'Silk Tassel's gracefully cascading clump looks fantastic massed in a woodland planting, cozied alongside rocks or positioned pond side.
Size: 12" high x 2' 0" wide; hardy to zone 5.
Carex morrowii var. temnolepis 'Silk Tassel' (G-0555)
Each $7.75
Add to Cart
Dwarf Palm Sedge
Truly pint-sized in all aspects, this easily cultivated fine textured sedge was introduced by Limerock Nursery of Pennsylvania. Thin, tapered bright green blades resemble miniature palms as they radiate out from lax stem tips.
Best relished up close, the slow spreading 'Little Midge' is a superb option for small water features or containers, bog gardens and the rockery; or plant multiples for a verdant ground cover. It endures sun or partial shade with ample moisture, but is tolerant of drier conditions.
Size: 8"–12" high x 8"–12" wide; hardy to zone 4.
Carex muskingumensis 'Little Midge' (G-0521)
Each $7.75
Add to Cart
While the species inhabits moist North American woodlands and meadows, this uniquely textured sport, discovered in landscape architect Wolfgang Oehme's garden, is somewhat drought tolerant once established. First a solid color, later enhanced with narrow yellow edges, the bright green blades are tapered and arranged horizontally like palm fronds on mostly upright triangular stems, knitting a tropical-styled, semideciduous ground cover.
Versatile and deer resistant, 'Oehme's slow spreading steadfast clump produces chocolate-colored spiky inflorescences, handles sun or shade, favors ample moisture, especially when its hot and looks just right along a walkway, streamside, or in a container.
Blooms June.
Size: 18"–2' 0" high x 2' 0" wide; hardy to zone 4.
Carex muskingumensis 'Oehme' (G-0505)
SOLD OUT!
Email me when this plant is available
Variegated Japanese Sedge
Touted as one of the most graceful of the variegated sedges, this clump-forming evergreen Carex captivates us with dense and dapper, gracefully weeping blades. A butter-colored median band daringly lights up each long, fine textured dark green leaf. Carex oshimensis dwells amid the rock-laden slopes and dry woodlands on Japan's main island, Honshu, rendering 'Evergold' a choice contender for your favorite pot, the rockery or woods. Smoothing over hard edges and luminous en masse, it happily obliges varied conditions, except intense hot weather.
Size: 10"–14" high x 12"–2' 0" wide; hardy to zone 6.
Carex oshimensis 'Evergold' (G-0506)
SOLD OUT!
Email me when this plant is available
Oshima Sedge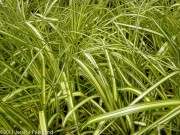 Arching upward and out, this Carex's lush foliage is elegant. A glinting cascade of refined, evergreen blades presents dark green margins with broad, alabaster-colored central stripes that mature to creamy yellow. Languishing if it's too hot, slow spreading 'Gold Strike' thrives in moist, well drained sites, and makes a bold statement when its densely set, variegated tussocks are planted in a meandering swath amidst Pulmonaria 'Benediction' or Epimediums.
Size: 15"–20" high x 2' 0" wide; hardy to zone 6.
Carex oshimensis 'Gold Strike' (G-0461)
Each $7.75
Add to Cart
Oak Sedge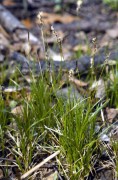 Wish you had a lush green no-mow carpet that can tackle dry conditions and requires little care? This low growing, fine textured Sedge may be just what you're looking for. Slowly spreading by reddish brown rhizomes, C. pensylvanica makes a soft-looking fountain-like ground cover with delicate semievergreen blades plus white-edged purple and brown thimble-shaped inflorescences. Indigenous to the thickets and oak inhabited woodlands of eastern and central North America, Oak Sedge prospers in well-drained shady expanses, such as underneath deciduous trees and large perennials, or as a lawn substitute, where there's not much foot traffic.
Blooms May
Size: 6"–12" high x 8"–15" wide; hardy to zone 4.
Carex pensylvanica (G-0545)
Each $7.75
Add to Cart
Originally cultivated by Japan's variegated grass enthusiast, the late Dr. Yokoi, slow spreading 'Silver Sceptre' yields bright white margins that are big on sparkle, though the long, arching narrow green blades span a mere 1/8 in. Greenish brown flower spikes lend subtle interest on triangular stems, while the compelling silver-laced foliar accents jazz up containers or massed plantings. Utilized as an obliging evergreen ground cover, 'Silver Sceptre's refined habit tackles deer, drought and various soil conditions plus heavy shade and cold winters.
Blooms May
Size: 8"–12" high x 12"–18" wide; hardy to zone 5.
Carex 'Silver Sceptre' (G-0561)
Each $7.75
Add to Cart
New Zealand Sedge
A cozy fusion of colors—from dark chocolate and cappuccino to reddish bronze—distinguish this fine textured evergreen sedge. Whether positioned in a border, cascading over a wall or embellishing a container, the long and narrow, arching foliage fashions a loosely arranged, graceful mound whose rich warm tones juxtapose green and golden leafage to great affect.
Carex tenuiculmis favors moist soil, and can be brought inside wherever it's not winter hardy.
Size: 12"–15" high x 12"–15" wide; hardy to zone 7.
Carex tenuiculmis (G-0471)
Each $7.75
Add to Cart
Orange New Zealand Sedge
The exotic look of lucent orange foliage paints the garden's verdant canvas nearly year round. Long, fine textured strands first emerge an olive-green and later transmute stunning golden brown, copper and orange highlights. With its upright and dense arching tuft, easy-to-grow Carex testacea is a hardy, drought tolerant grass that entices gardeners, but not deer, insisting on full sun to preserve the extraordinary hues, and good drainage.
Let this evergreen New Zealand native spill over a container's edge or cozy up to Yucca 'Garlandĺs Gold', Heuchera 'Obsidian' and Euphorbia myrsinites.
Size: 18"–2' 0" high x 18" wide; hardy to zone 6.
Carex testacea (G-0495)
Each $7.75
Add to Cart
AVAILABLE AUGUST 2018
Catlin Sedge
Sauntering throughout open woodlands and dry sandy meadows from New York to Georgia and west to Nebraska and Texas, this resourceful evergreen Carex serves up small flowing mat-like clumps characterized by thin, wispy dark green leaves plus petite green flower spikes. A long-lived undemanding grass, Catlin Sedge abates erosion, prefers dappled sunlight, tolerates moist or dry conditions and makes a water-wise lawn alternative that abides minimal foot traffic and rarely needs mowing. It can spread between stepping stones, carpet forest margins and accompany bonsai specimens or Japanese Maples in containers.
Blooms April–May
Size: 5"–12" high x 12"–2' 0" wide; hardy to zone 5.
Carex texensis (G-0571)
Each $7.75
Add to Cart
Chasmanthium