Grasses at Digging Dog:
Elymus to Uncinia
Includes Hakonechloa, Luzula, Miscanthus, Muhlenbergia, Panicum, Schizachyrium, & Stipa

View a slideshow of plant images from this page
Elymus
Wheat Grass
The color of sky and sea, Elymus's light blue glaucous blades gain intensity as the plant matures and assumes its delightful skirtlike habit. Older leaves fall outward to cover the base, revealing the new, upright central growth.
A designer's dream, Wheat Grass holds its form without the distraction of conspicuous flowers, and is unparalleled in a container or as a specimen for the mixed border against a drift of green Carex tumulicola. Happiest in coastal areas, this extraordinary blue grass appreciates well drained soil, and light shade in hot climates.
Size: 15" high x 18" wide; hardy to zone 6.
Elymus magellanicus (G-0475)
SOLD OUT!
Email me when this plant is available
Equisetum
Horsetail
Giant Scouring Rush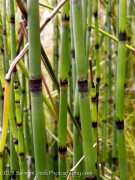 Boasting a strong architectural appeal, this California native has sturdy bamboolike stems and is much taller than the species. The deep green stems are divided by brown joints and, because they contain silica, were once used to polish tin and wood. Makes an excellent container plant, in or out of water.
Size: 5' 0"–7' 0" high x 2' 0"–3' 0" wide; hardy to zone 4.
Equisetum hyemale var. Robustum (G-0071)
Each $7.50
Add to Cart
Eragrostis
Elliott's Lovegrass
Purple Love Grass
A widespread North American resident, this irresistible warm season bunch grass gives you good reason to love it. The low, loosely arranged narrow light green blades launch tall thin flower stalks that cushion a lovely fine-hewn cloud of reddish purple seed heads in late summer. Bronze and burgundy-streaked autumn foliage extends the show. A butterfly's friend and a gardener's delight, Eragrostis spectabilis asks for good drainage and struts unfaltering mettle, miraculously abiding air pollution and black walnuts as well as dry, poor, sandy or gravel-strewn sites.
Blooms July–September
Size: 18"–2' 0" high x 2' 0" wide; hardy to zone 5.
Eragrostis spectabilis (G-0563)
Each $7.75
Add to Cart
Eriophorum
Broad Leafed Cotton Grass
Greek for "wool bearing," the genus name alludes to the light-as-a-feather, white cloud-like blooms of this wet marshlands dweller from the British Isles and Eurasia. The dense cotton balls dreamily float some 12 to 18 in. above a handsome clump of light green, finely textured foliage. Described by numerous thin bristles that extend beyond the flower spikelets, the unique inflorescences make bright, fluffy additions to dried arrangements, and later evolve into wispy nodding tufts. Thriving in moist soils yet sulking in hot, dry conditions, Cotton Grass is most effective en masse in a naturalized setting or by water's edge intermingled with Euphorbia 'Great Dixter's warm accents.
Blooms April–June.
Size: 2-1/4' high x 18" wide; hardy to zone 4.
Eriophorum latifolium (G-0476)
Each $7.50
Add to Cart
Fargesia
Clumping Bamboo
A favored snack for giant pandas and an airy elegant spectacle for any gardener, 'Rufa' is one of the most hardy and versatile noninvasive Bamboos available. Prominent, rusty red paperlike sheaths and long narrow, deep green leaves enhance polished graceful culms. Unleashing numerous new shoots each season, this vigorous Bamboo can be utilized as a year-round star specimen or planted en masse as a privacy hedge. Regular water and protection from hot afternoon sun ensure its success.
Size: 8' 0" high x 6' 0" wide; hardy to zone 5.
Fargesia dracocephala 'Rufa' (G-0534)
Each $15.00
Add to Cart
Fescue
Originating from the Latin word for stalk or stem, the genus Festuca is comprised of approximately 300 cool season perennial species. The following native Californian selections highlight handsome, fine textured tufts, which appreciate a well drained site, annual early spring trimmings and a division every couple of years, while sulking in hot humid weather.
A denizen of central Europe, this ultra fine textured grass is practically peerless among Festucas. Soft silver blue blades with rolled edges configure a well-groomed glaucous mound. Extending above evergreen clumping foliage, quantities of relaxed slender stems generate vivid heliotrope shades paired with amber-hued flower spikes for more than a month. 'Superba' can serve as a dynamic small-scale specimen sprinkled above a stone wall or throughout the rockery, where its stunning color always beckons.
Blooms mid-May to mid-July.
Size: 18"–2' 0" high x 2' 0"–2-1/2' wide; hardy to zone 4.
Festuca amethystina 'Superba' (G-0527)
Each $8.00
Add to Cart
AVAILABLE SPRING 2018
A focal point for its stiff silvery blades, this robust grass originated from seed that Cal Flora Nursery owner, Phil Van Soelen, collected near California's Sonoma coast. Anchored by burgundy sheaves, glaucous gray-green leaves remain evergreen in milder climates and become more lustrous as the weather warms. Unfurling in open, yet showy, abundance, the graceful greenish panicles mature to a golden hue some 2 or 3 ft. above a fairly compact, dense basal tuft of enduring handsome foliage. Resplendent massed with shrubs such as Ceanothus, Cistus or Ribes, 'Phil's Silver' prefers minimal to moderate summer water and obliges an array of situations, such as coastal slopes, wind and drought in cooler locations.
Blooms April–June.
Size: 3' 0" high x 3' 0" wide; hardy to zone 7.
Festuca californica 'Phil's Silver' (G-0462)
Each $8.00
Add to Cart
AVAILABLE SPRING 2018
Blue Bunchgrass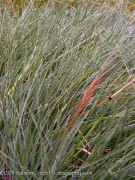 Not only beautifully blue, but hard-working to boot, this water wise perennial grass is a California native from Del Norte County. A thick, tidy hummock of very thin, chalk blue blades sends up slender, wandlike stems holding graceful, airy golden sprays.
Hallmarked by a composed appearance, 'Stony Creek' is most impressive and enduring in large drifts on banks or hillsides, where it aids erosion control, resists those pesky deer, doesn't falter in full sun even inland, and prefers some afternoon shade.
Blooms April–June.
Size: 2' 0"–2-1/2' high x 2' 0" wide. Zone 7/8.
Festuca idahoensis 'Stony Creek' (G-0488)
SOLD OUT
Email me when this plant is available
Atlas Fescue
Indigenous to Morocco's Atlas Mountains, this long lived cold hardy grass sprouts a gracefully arching fountain distinguished by handsome khaki-tinged gray-green blades. Taller than most Festucas, Atlas has quickly earned the reputation as one of the finest large area ground covers, proving indispensable for mass plantings on slopes, in mixed borders or natural style meadows. Evergreen where winters are mild and remarkably drought tolerant, its reliable good looking mound relishes occasional waterings and doesn't require a trim, only a little raking.
Blooms June.
Size: 2' 0"–3' 0" high x 2' 0"–3' 0" wide; hardy to zone 4.
Festuca mairei (G-0541)
SOLD OUT!
Email me when this plant is available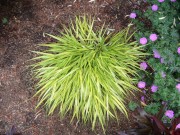 These graceful members of the Poaceae family are named after Hakone, a region of Japan where they can be found growing wild in shady areas with humus-rich soil.
A study in urbane simplicity, this vivid green grass fashions lush mounds of flowing bamboo-like foliage. Hakonechloa macra has often been overlooked, though its faster growing habit has a lot to offer, enduring more sun, drought and cold than the variegated Hakones. Solidly colored blades offset striped, gold, bronze or broad-leafed plants to great effect, or meld with Buxus 'Blauer Heinz' for a meditative green-on-green composition.
Size: 12"–3' 0" high x 12"–3' 0" wide; hardy to zone 4.
Hakonechloa macra (G-0546)
Each $8.75
Add to Cart
White-Striped Hakone Grass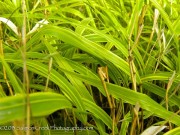 Always a popular cultivar, this Japanese forest grass is more sun tolerant than the golden form. The pendulous green foliage is adorned with thick and thin creamy white stripes. Under dappled light in the rock garden, by pathways, in containers, or planted beneath a dwarf Maple, 'Albo-Striata' will brighten your days.
Size: 12" high x 2' 0" wide; hardy to zone 6.
Hakonechloa macra 'Albo Striata' (G-0062)
Each $8.75
Add to Cart
Golden Hakone Grass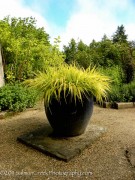 Gleaming with the clearest gilded shades imaginable, 'All Gold's broad foliar ribbons are surely the envy of King Midas! This slightly more upright Hakonechloa possesses the characteristic fluid ease of our other cultivars, and when set amid Astrantia 'Hadspen Blood', its radiant, fountain-like blades convey a dazzling vitality in any shady niche.
Size: 18" high x 18" wide; hardy to zone 6.
Hakonechloa macra 'All Gold' (G-0477)
Each $8.75
Add to Cart
Golden Variegated Hakone Grass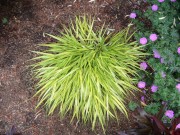 This cool season dwarf grass is lush and courtly. Cascading, satin-like foliage is broad and variegated with cream, chartreuse and green, illuminating dark garden corners and softening hard features. Appreciative of moist well-drained soil, 'Aureola' makes a choice specimen or slow spreading ground cover. We especially enjoy it in Japanese gardens as well as under the ambient light of Corylopsis spicata.
Size: 15" high x 18" wide; hardy to zone 6.
Hakonechloa macra 'Aureola' (G-0051)
Each $8.75
Add to Cart
With the same overflowing grace as its relatives, newly introduced 'Beni-kaze' entertains brilliant red fall colors. The lax green mound of loosely arranged, draped blades remains green until cooler weather ignites the smooth foliar ribbons and begs its name, which translates "red wind." Lolling in the late season shadows, this larger growing Hakonechloa echoes the warm-hued fanfare of autumnal foliage.
Size: 18"–20" high x 2' 0"–2-1/2' wide; hardy to zone 6.
Hakonechloa macra 'Beni-kaze' (G-0497)
Each $8.75
Add to Cart
Discovered in a French trial garden, this recently introduced Hakone Grass is distinctive for its smaller stature and unique foliar blend of fall hues. The pendent, creamy white and yellow-green blades, which sport irregular green bands, appear similar to 'Aureola' during the spring and summer months.
Once the weather cools, some of the foliage transmutes deep reddish purple colors, while many leaves retain their bright variegation, crafting an exceptional multitoned spectacle. (pp#19,897)
Size: 10"–14" high x 18" wide; hardy to zone 5.
Hakonechloa macra 'Naomi' (G-0522)
SOLD OUT!
Email me when this plant is available
A brilliant foliar infusion of orange-red hues caused by cool autumn weather makes this compelling new cultivar unique. Reminiscent of bamboo, artful weeping blades remain deep green throughout spring and summer, developing into a low soft-looking ground cover that exhibits more sun and drought tolerance than its golden or variegated cousins and promises not to overtake its neighbors.
'Nicolas' brings bold color to the season's last curtain call and can be celebrated as a container subject, planted en masse in a naturalistic or modern venue or paired with bonsai, which is a favored Japanese tradition. (pp#19,898)
Size: 10"–14" high x 18" wide; hardy to zone 5.
Hakonechloa macra 'Nicolas' (G-0528)
Each $8.75
Add to Cart
Sporting the reverse variegation of its parent, 'Aureola', and growing slightly taller as well, 'Sunny Delight's slender predominately green blades showcase lambent golden yellow streaks and striations in varying widths. The shapely flowing habit makes a durable and deciduous bambooesque partner for fellow dappled shade-lovers like Geranium 'Alec's Pink' or Tricyrtis 'Blue Wonder'.
Size: 14" high x 20"–22" wide; hardy to zone 5.
Hakonechloa macra 'Sunny Delight' (G-0564)
Each $8.75
Add to Cart
Helictotrichon
Blue Oat Grass
A finely textured, semievergreen selection from Germany—the best of the midsized, blue-leafed grasses—'Sapphire Fountain' is as distinctive for its form as for its color. Bright steel blue blades leap into arching sprays of delicate, wheat-colored inflorescences hovering 2 ft. above the clump. Prospering in low humidity and well drained soil, this cool season grass gives an artful year-round show en masse or as a specimen.
Blooms May–June.
Size: 3-1/2' high x 2' 0" wide; hardy to zone 4.
Helictotrichon sempervirens 'Sapphire Fountain' (G-0089)
Each $8.00
Add to Cart
Juncus
Rush
The thick, polished, cylindrical foliage that fantastically twists, winds and corkscrews upwards defines this dramatic evergreen Juncus. Best ensconced in containers to abate the creeping rhizomes, easily grown 'Big Twister' is an attention-grabbing showpiece for water features, pond margins, boggy areas or even inside as a house plant. It thwarts those pesky deer, relishes bright shade plus evenly moist soil and makes an extraordinary addition to fresh or dried arrangements.
Size: 18"–2' 0" high x 2' 0" wide; hardy to zone 5.
Juncus effusus 'Big Twister' (G-0576)
Each $7.75
Add to Cart
AVAILABLE SPRING 2018
Australian Silver Rush
Easily swayed by the slightest breeze, the upright thicket of slender, gray-green cylindrical stems has an engaging kinetic presence. This versatile grasslike perennial yields small brown flower clusters at its stem tips and makes an exceptional fine textured companion for a lush grass such as Molinia 'Bergfreund' in a mixed planting or along a pond or stream bank.
Found sauntering about Australia's coastal areas, it can handle dry or moist sites and appreciates a hard late winter pruning to ensure fresh looking spring growth.
Blooms July – September.
Size: 4' 0" high x 3' 0" wide; hardy to zone 8.
Juncus polyanthemos (G-0508)
Each $7.75
Add to Cart
Leymus
Wild Rye
Giant Rye grass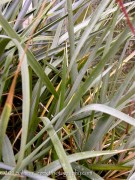 Luscious silvery blue blades—broad, highly glaucous, and upright and arching—distinguish this royal looking California native. Selected by the Santa Barbara Botanic Garden and found on Prince Island in the Santa Barbara Channel, 'Canyon Prince' grows into a dense, not-so-tall evergreen clump that yields slow spreading rhizomes and tightly clustered almond-colored inflorescences on straight stems.
Brimming with elegance and easy to cultivate, its unyielding fortitude shrugs off heavy soil, dry conditions and foraging deer.
Blooms July – August.
Size: 3' 0"–4' 0" high x 2' 0"–3' 0" wide; hardy to zone 7.
Leymus condensatus 'Canyon Prince' (G-0514)
SOLD OUT!
Email me when this plant is available
Wood Rush
Luzula comes from the Latin word meaning "glow worm." These graceful rushes earn their name for the way a soft, downy hair, which covers the margins of each blade, catches and holds dew. As the morning light strikes the moistened leaves, they glisten. The handsome leafage vitalizes a garden setting with its textural infill.
Durable as a ground cover and at home in various soil types, Luzula is best when planted in drifts.
An eye catching new selection from seed collected in the mountains of British Columbia by plantsman Graham Ware, 'Ruby Stiletto' lives up to its name during the colder months when sumptuous ruby hues emblazon its blades. A compact hummock of spry and slender grassy green foliage in the warm seasons, this gem weaves an engaging, textural tapestry when planted en masse with drifts of Deschampsia 'Goldgehänge' and Molinia 'Moorflamme'.
Size: 12" high x 8" wide; hardy to zone 5.
Luzula 'Ruby Stiletto' (G-0103)
SOLD OUT!
Email me when this plant is available
Greater Wood Rush
This light green ground cover is perhaps one of the best ornamental grasses for a shady setting, especially beneath woody, deciduous shrubs. Arising from soft-looking broad foliar ribbons with twisted and downward curving tips, erect 15 in. stems hold golden inflorescences that mature handsomely to a chocolate brown. Evergreen 'Auslese' can tolerate some drought, and assures a blithe presence as it skirts below Sambucus 'Black Beauty'.
Blooms mid-April–May.
Size: 12" high x 18" wide; hardy to zone 5.
Luzula sylvatica 'Auslese' (G-0464)
SOLD OUT!
Email me when this plant is available

If Pygmalion were a gardener, Miscanthus would come to life as fountains, some of them spouting tall and upright to 10 ft. Graceful and robust, they're favored for their lush foliage and silky terminal panicles. Striking as a single specimen, Miscanthus is also excellent when massed in the perennial bed or a mixed border. Attractive year-round, with fall colors of yellow, purple, scarlet and burgundy, they fade to a lovely warm ivory in winter.
A sterling Kurt Bluemel introduction, 'Adante' spawns strong upright stems clothed in broad green blades, distinctively etched by light central stripes. Pink-blushed plumes mature with silver-laced high-lights, projecting an unbeatable floral effect above graceful loosely arranged and somewhat pendant foliage. This probable Miscanthus transmorrisonensis descendant can frame a view, define a threshold or serve as a large awe-inspiring focal point in the landscape.
Blooms September-November
Size: 7-1/2' high x 3' 0"–4' 0" wide; hardy to zone 5.
Miscanthus 'Andante' (G-0547)
Each $9.75
Add to Cart
Flame Grass
This wildly popular hybrid affords an upright compact habit, superlative fall color plus an outstanding winter presence. Flushed with a reddish tinge that deepens throughout the summer, the medium green blades eventually brandish vivid orange-red fall colors. Crimped rosy tassels morph into creamy white plumes, and set against the burgundy-streaked leaves, become a stunning late summer spectacle. Alluring nearly year round especially when grouped or planted as a stand-alone, Flame Grass' tight medium-sized silhouette earns its title when the nights cool down.
Blooms July–February
Size: 4' 0"–5' 0" high x 2-1/2'–3' 0" wide; hardy to zone 5.
Miscanthus 'Purpurascens' (G-0548)
Each $9.75
Add to Cart