Catalog
Order the Catalog printed on genuine paper for $2.
Add to Cart
Digging Dog Nursery
a retail and mail order plant nursery specializing in unusual and hard to find perennials, ornamental grasses, shrubs, trees, and vines.
31101 Middle Ridge Rd.
Albion, CA 95410
phone:
(707) 937-1130
fax:
(707) 937-2480
Visit Us!
Summer Hours:
Wednesday–Saturday: 10am–4pm
Luzula (Wood Rush)
at Digging Dog
Including

Luzula
Wood Rush
Luzula comes from the Latin word meaning "glow worm." These graceful rushes earn their name for the way a soft, downy hair, which covers the margins of each blade, catches and holds dew. As the morning light strikes the moistened leaves, they glisten. The handsome leafage vitalizes a garden setting with its textural infill.
Durable as a ground cover and at home in various soil types, Luzula is best when planted in drifts.
An eye catching new selection from seed collected in the mountains of British Columbia by plantsman Graham Ware, 'Ruby Stiletto' lives up to its name during the colder months when sumptuous ruby hues emblazon its blades. A compact hummock of spry and slender grassy green foliage in the warm seasons, this gem weaves an engaging, textural tapestry when planted en masse with drifts of Deschampsia 'Goldgehänge' and Molinia 'Moorflamme'.
Size: 12" high x 8" wide; hardy to zone 5.
Luzula 'Ruby Stiletto' (G-0103)
SOLD OUT!
Email me when this plant is available
Greater Wood Rush
This light green ground cover is perhaps one of the best ornamental grasses for a shady setting, especially beneath woody, deciduous shrubs. Arising from soft-looking broad foliar ribbons with twisted and downward curving tips, erect 15 in. stems hold golden inflorescences that mature handsomely to a chocolate brown. Evergreen 'Auslese' can tolerate some drought, and assures a blithe presence as it skirts below Sambucus 'Black Beauty'.
Blooms mid-April–May.
Size: 12" high x 18" wide; hardy to zone 5.
Luzula sylvatica 'Auslese' (G-0464)
SOLD OUT!
Email me when this plant is available
Current Staff's Favorite Plant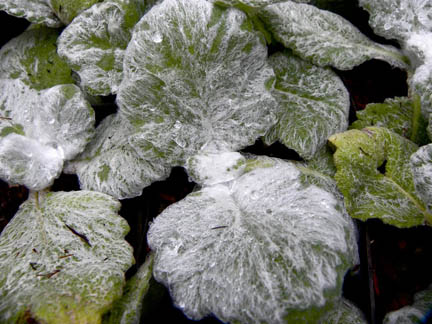 Customer Comment:
"I have wanted to write for weeks to thank you for the wonderful plants you sent in April!! .... Have mail ordered for over 20 years, and I had to tell you how impressed I am with your plants. All have moved into my garden with ease and bloomed....My largest order next spring will be with Digging Dog!!"
~Mary Kay in New York
view Digging Dog's comments with Dave's Garden (The Garden Watchdog)