Everything about this fantastic subalpine Chinese native is BIG! Enormous bulbs stockpile their stamina for nearly seven years before launching 10 to 15 ft. tall, hollow black-infused flowering stems, loosely clad in glossy leaves. An elegant gathering of pendulous, 10 in. long creamy white, trumpet-like blooms with reddish purple-streaked throats and a delectable fragrance crowns the energy charged treelike stalks.
Below, handsome thick, heart-shaped foliage that measures about 10 in. across and 18 in. long forges a large green basal rosette. The Giant Himalayan Lily possesses a long lasting dramatic stance, even in autumn, when decorative fruit capsules transmute warm chestnut hues and split open, pouring their countless silky seeds upon the garden.
After flowering the plant sadly perishes, but smaller bulbs ensure an extraordinary encore in a couple of years.
Blooms late June–mid-August.
Size: 15' 0" high x 2' 0" wide; hardy to zone 7.
Cardiocrinum giganteum var. yunnanense (P-1727)
SOLD OUT!
Email me when this plant is available
Bluebeard
Shrouded in a blue mist from midsummer until frost, these woody, shrublike perennials proclaim an Asian heritage and Verbena relations. Aromatic and paired, the deciduous foliage is attired with dense clusters of tantalizing whorled flowers enhanced by showy extended stamens. An excellent choice for a shrubby bed, mixed border or open bank, their cool colors complement the warmer tones of late season blooms. Prized by bees and butterflies, sun-loving Caryopteris tolerates some drought and demands good drainage.
Common Bluebeard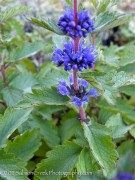 This shrubby perennial is valued for its ability to handle a dry site, but definitely proves itself indispensable when masses of its deep blue-violet flowers put on a spectacular show. Enveloping stiff upright stems, the richly colored blooms are long lasting in the garden and in arrangements as well. Handsome, grayish green felted leaves emit a pleasing medicinal scent as they cloak Common Bluebeard's looser, more open profile.
Blooms mid-August–October.
Size: 3' 0"–5' 0" high x 4' 0" wide; hardy to zone 7.
Caryopteris incana (P-0728)
SOLD OUT!
Email me when this plant is available
Knapweed
Centaurea's heritage extends all the way back to ancient Greek mythology when Achilles's wise teacher, Chiron the Centaur was wounded by one of Hercules' poisoned arrows and subsequently cured by this herb's miraculous healing powers.
Equally at home in a present day border or a more naturalized setting, our hardy undemanding selections paint a bright picture inside as well. The long lasting boisterous blooms are celebrated cut flowers, bringing high-spirited accents to both fresh and dried arrangements.
Appreciative of well draining "sweet" soil, the ever amenable Knapweed withstands some drought, but not wet, wintertime feet.
Milling about the mountainous meadows of Europe's Carpathian Range, this garden rarity spotlights large ruby red thistle-styled blooms bolstered by impressively tall sturdy stems. Even before the marvelous flowers appear, intricately detailed buds with brown-tipped green scales and curvy white spines beg a closer glance. A delicate-looking rosette of long feathery leaves—silver-gray and narrowly cut—completes the picture, while yellow blooming Centaurea ruthenica makes an ideal companion.
Blooms June – August.
Size: 4' 0" high x 2' 0" wide; hardy to zone 5.
Centaurea atropurpurea (P-1646)
Each $8.00
Add to Cart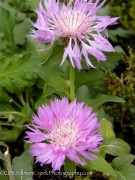 Cradled by silvery, paper-thin bracts, a vivacious summertime showing of deep rose-pink thistlelike blooms with pale centers promises a fall encore when deadheaded regularly.
Long green leaves—deeply divided, lobed and powdery white beneath—line stiff-backed stems, bolstering the fragrant high energy performance.
A magnet for butterflies and gardeners alike, this carefree Centaurea exhibits a compact, not-so-tall profile that can be featured atop a wall or near the border's front, obliges dry soils and keeps us coming back well after the flowers have faded to relish its long lasting, decorative seed heads.
Blooms July–August.
Size: 2' 0" high x 18" wide; hardy to zone 4.
Centaurea hypoleuca 'John Coutts' (P-1392)
SOLD OUT!
Email me when this plant is available
Great Golden Knapweed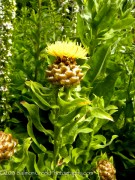 An overgrown, sun-struck relative of the Bachelor Button, this "big-headed" native of the Caucasus Mountains has so many good qualities you'll soon be inviting it into your garden. A medium green, rowdy mass of oversized, wavy-edged lanceolate leaves attached to stout stems gives way to intriguing, rust-colored buds as big as a chicken's egg.
Scaled by papery bracts, the bud's rotund profile opens to offer a large, bright yellow thistle, a cheerful mop of threadlike petals bursting with sunshine and color. Back this easy-to-grow cut flower with Cotinus 'Grace' and surround it with Nepeta 'Pool Bank'.
Blooms late July–mid-September.
Size: 3' 0"–4' 0" high x 2-1/2' wide; hardy to zone 4.
Centaurea macrocephala (P-0834)
Each $8.00
Add to Cart
Coveted by florists, bees and butterflies, the silken starburst of finely fringed blackberry-colored petals plus embroidered dark buds creates a stylish contrast against silver-haired gray-green lanceolate foliage. 'Black Sprite's exotic, long blooming tubular flowers sojourn on upright stems above a low growing leafy mound that tolerates dry conditions once established, prefers good drainage and slightly alkaline soil as well as a periodic cut back. (pp #23,250)
Blooms May–June
Size: 18" high x 18"–2' 0" wide; hardy to zone 3.
Centaurea montana 'Black Sprite' (P-1928)
Each $8.00
Add to Cart
Ringed with spidery ultra-fringed tubular florets, the dark-as-midnight blooms are presented singularly, strutting sumptuous reddish purple shades on tall staunch stems. Black embroidered buds, intriguing seed heads and silver felted new growth further enhance the tidy clump of broadly lanceolate green leaves that sport minute pearly hairs. A fan of lean chalky sites, this fanciful bloomer appreciates periodic pruning and works best as a filler in a Mediterranean planting, cottage garden or a naturalized setting, where it will bring on the bees, butterflies and other admirers.
Blooms May–June.
Size: 18" high x 18"–2' 0" wide; hardy to zone 3.
Centaurea montana 'Jordy' (P-1797)
Each $8.00
Add to Cart
Pink Bachelor Button
Touted as one of the prettiest species of the genus, Centaurea pulcherrima celebrates brilliant rose-colored flowers with silvery yellow bracts unfurling from large papery buds. This rarely offered robust perennial hosts handsome narrow pinnate grayish green leaves with hairy white undersides. Endemic to the Caucasus Mountains, Pink Bachelor Button makes a sterling prospect for stone walls, sun bathed rock gardens or even a bouquet.
Blooms June–August
Size: 16" high x 2' 0" wide; hardy to zone 4.
Centaurea pulcherrima (P-1876)
Each $8.00
Add to Cart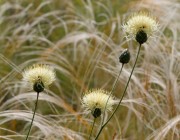 "A border flower of the highest merit," is how British horticulturist, William Robinson once described this awe-inspiring Centaurea, and we couldn't agree more! Crowning long straight green stems, the fluffy thistle-style heads in unique pale citron yellows and tissue-thin buff-colored bracts will attract more than a few admirers. These ample-sized, sublime-for-cutting blooms heighten a graceful ferny pedestal of rich green pointed leaves with gray undersides, narrow silhouettes and a refined countenance. Appreciative of adequately draining soil, the ever amenable Knapweed withstands some drought, but not wet winter feet.
Blooms July–September.
Size: 3' 0"–4' 0" high x 2' 0" wide; hardy to zone 5.
Centaurea ruthenica (P-1329)
Each $8.00
Add to Cart
Centranthus
Red Valerian
From the ruins of Europe and the chalky cliffs of Dover to your garden's refuge, this age-old Mediterranean perennial is second-to-none for long showy summertime bloom. Clothed with glaucous and paired, stem-less blue-green leaves that the Sicilians once savored in their salads, the handsome bushy clump entices us with minute, deep carmine-red fragrant florets densely arranged in domed, cut-flower-perfect terminal clusters.
Whether it's situated on slopes, amid stone walls, terrace cracks or the border, the boldly colored Red Valerian can endure most conditions except damp shade, and especially thrives in alkaline soil with little or moderate moisture. A good pruning ensures a repeat bloom, maintains a pleasing shape and prevents self-seeding.
Blooms June – October.
Size: 2' 0"–3' 0" high x 2' 0" wide; hardy to zone 5.
Centranthus ruber 'Pretty Betsy' (P-1546)
Each $7.50
Add to Cart
The most garden-worthy plants of this versatile genus, which includes 65 species of annuals, biennials and perennials, all bearing pincushion flower heads, are valued for their stature and distinctively textured foliage. Amenable and undemanding perennials with a graceful air, our selections work equally well as specimens or as a swath meandering through the landscape.
Cephalaria galpiniana is unique among other species in the genus for its attractive, ferny green basal mound comprised of long, narrow ultra-chiseled toothed leaves and succulent stems. Buoyant creamy yellow pincushion-styled flowers are presented on supple 18 in. green stalks for a carefree summer showing. Smaller statured than its towering cousin, Cephalaria gigantea, this seldom offered perennial can be situated closer to the frontlines, where its relaxed stance and easily melded colors effectively offset broad or gray foliage and bolder-hued flowers.
Blooms June–August.
Size: 18"–2' 0" high x 12"–15" wide; hardy to zone 7.
Cephalaria galpiniana (P-1749)
Each $7.75
Add to Cart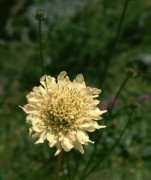 This magnificent plant has flat Scabiosa-like primrose-yellow flowers supported by wiry, striped stems and a basal clump of dark green, pinnately lobed foliage. An easy, undemanding perennial, Cephalaria gigantea brings a graceful air to any garden and when given room to grow, we guarantee you'll be impressed.
Blooms June–August.
Size: 6' 0" high x 4' 0" wide; hardy to zone 4.
Cephalaria gigantea (P-0186)
Each $7.75
Add to Cart
AVAILABLE AUGUST 2018
Cirsium
Thistle
Giant Thistle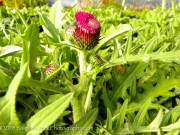 Of all the garden worthy thistles, this intensely colored Cirsium is the most coveted. Elevated on upright, branched leafy stems, the densely packed dark crimson flowers have a tidy symmetrical appearance, while beckoning pollinating insects and birds or enhancing cut arrangements. Prickly narrow cut green leaves form a slowly spreading clump that appreciates moisture and works well in a natural-style planting, especially when associated with other opulent blooming perennials like Papaver 'Patty's Plum' or Astrantia 'Moulin Rouge'.
Blooms July – September.
Size: 4' 0" high x 20"–2' 0" wide; hardy to zone 4.
Cirsium rivulare 'Atropurpureum' (P-1614)
Each $10.00
Add to Cart
While calling this chipper pincushion-like flower "blue" is a bit of a stretch, its saturated heather purple color is sure to please. The vivid nectar-rich blossoms are a pollinator's delight, sojourning on upright slender stems that rise from narrow green leaves laced with a subtle silver sheen.
Blooms July–September
Size: 4' 0" high x 20"–2' 0" wide; hardy to zone 4.
Cirsium rivulare 'Trevor's Blue Wonder' (P-1878)
SOLD OUT!
Email me when this plant is available
Codonopsis
Asian Bellflower
This twining, dainty member of the Campanula family reveals a quiet beauty and hidden treasures. Inside each nodding, urn-shaped china blue flower is a remarkable tapestry of color: dark purple veins and maroon bands with orange at the base. Appreciative of a cool, well drained site, the upright gray-green clump eventually trails, and should be planted in a raised position above a wall or along garden steps so that you can admire the cloistered bloom colors.
Blooms June–July.
Size: 20" high x 20" wide; hardy to zone 4.
Codonopsis clematidea (P-1173)
Each $8.25
Add to Cart
Tickseed
The Coreopsis we offer are perennials. They share some characteristics with their annual cousins: they are dependable, easy to work with, and make a quick impact. Though they often play a supporting role, Coreopsis are performers you'll remember when the show's over, for foliage as much as for stellar flowers.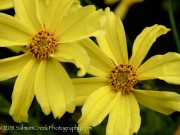 If Créme Brulée is your dessert of choice, consider satisfying your sweet tooth in a less caloric but equally delightful way. Originally discovered in Lois Woodhull's Long Island garden, this new Blooms of Bressingham hybrid is parented by Coreopsis grandiflora and Coreopsis 'Moonbeam'.
Neat ferny mounds serve as a dark green, threadleaf foil for large, butter yellow, luminous flowers. Delicately notched at each petal tip, the perky, long blooming daisies not only top the foliage but line the robust stems. To savor an array of color and texture, clump forming 'Créme Brulée' can be grouped with Verbascum 'Flush of White' and Eryngium 'Sapphire Blue'. (PPAF)
Blooms late June–September.
Size: 20" high x 2' 0"–2-1/2' wide; hardy to zone 5.
Coreopsis 'Créme Brulée' (P-1251)
SOLD OUT!
Email me when this plant is available
Tall Tickseed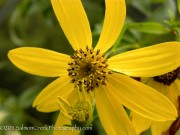 This lofty North American native yields a sea of dark-centered yellow daisies dancing atop strong, upright stems, which branch high up and impart an airy stature. Tall Tickseed is easy to grow and is most at home in a meadowlike setting, juxtaposed with the blue blades of Panicum 'Cloud Nine' and purple flowered Aster turbinellus.
Blooms August–September.
Size: 7' 0" high x 2' 0" wide; hardy to zone 4.
Coreopsis tripteris (P-0836)
SOLD OUT!
Email me when this plant is available
A new compact selection discovered in Alabama by the Mt. Cuba Center, this lofty North American native yields a sea of solitary, dark-centered yellow daisies with 8 round-tipped rays atop strong erect stems, which branch high up and impart an airy stature. Anise-scented, trim green leaves, featuring 3 narrow lance-shaped segments, garb 'Gold Standard's disease-resistant cold-hardy visage. Easily grown Tall Tickseed is most at home in a meadow-like setting, juxtaposed with the blue blades of Panicum 'Heiliger Hain' and purple flowering Aster turbinellus.
Blooms July– September
Size: 4' 0"–6' 0" high x 2' 0"–3' 0" wide; hardy to zone 3.
Coreopsis tripteris 'Gold Standard' (P-1980)
Each $7.75
Add to Cart
A year-round delight, 'Moonbeam' emerges in spring as an almost mossy mat; finely cut leaves evolve into fluffy foliage that supports billows of pale yellow-green star bursts. This unusual chartreuse complements almost any other color, though our favorite combination is Penstemon 'Alice Hindley' or Miscanthus sinensis 'Rigoletto'. After its long show, the rust-tinted seed heads remain through fall. Use as a ground cover in the rock garden or border—sturdy 'Moonbeam' does it all.
Blooms June–September.
Size: 18" high x 20" wide; hardy to zone 4.
Coreopsis verticillata 'Moonbeam' (P-0051)
Each $7.25
Add to Cart
Threadleaf Coreopsis
If you've tried some of the new Coreopsis introductions, but long for a blast from the past, you may be pleased to rediscover this tough-guy Coreopsis, whose finely cut, dense architectural form looks attractive even before the long lasting blooms appear. Dissected slender green leaves plus sturdy upright branching stems bolster a cheerful profusion of golden yellow daisies. Versatile, dependable and drought resilient, 'Zagreb' makes a colorful highly textured addition to the foreground, especially when flanked by Sidalcea 'Elsie Heugh'.
Blooms July–September.
Size: 18"–2' 0" high x 15" wide; hardy to zone 5.
Coreopsis verticillata 'Zagreb' (P-0052)
Each $7.25
Add to Cart
Cortusa
While its name does little to conjure a pleasing image, this demure perennial's charm is easily conveyed. Populating the cool, moist streamsides and woodlands of Japan and northern China and closely akin to the Primula genus, Cortusa makes a pretty detail in a shady rock garden.
The dainty umbels are poised on 9 in. stems, spotlighting pendant, bell-shaped rosy purple flowers with white-ringed centers above a low growing, downy soft clump of broadly rounded, incised leaves.
Blooms April–June
Size: 9" high x 10" wide; hardy to zone 4.
Cortusa matthioli ssp. pekinensis (P-1374)
Each $7.75
Add to Cart
The closest relatives of this striking genus are the bleeding hearts. The Greek name, meaning "crested lark," alludes to the graceful, birdlike appearance of the flowers, which grow in racemes among ferny foliage.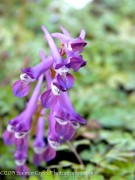 Drink in the multitudes of pendulous, white-flecked flowers adorning this sweetly fragrant and richly hued, quick-to-establish Corydalis. These blooms really are the color of blackberry wine, and set against the fernlike, blue-green leaves, give a heady liveliness to the garden, especially when contrasted with the golden blades of Hakonechloa 'All Gold'.
Blooms May–November.
Size: 10" high x 18" wide; hardy to zone 5.
Corydalis 'Blackberry Wine' (P-0923)
Each $7.75
Add to Cart
Exalted for its taller, more robust and long flowering visage, this exciting new Corydalis flexuosa and Corydalis elata cross was bred in France and recently introduced in England. Embodying the best qualities of both parents, 'Blue Line's vigorous fine cut foundation maintains a reliable summer presence, highlighting a honey-scented flood of white-throated, deep metallic blue blossoms on tall reddish tinted stems. The eye-catching flowers keep coming from spring 'til fall and create quite a fervor alongside Begonia 'Alba' and backed by bold-leafed Rodgersia 'Bronze Form'.
Blooms May–September
Size: 15" high x 15" wide; hardy to zone 4.
Corydalis 'Blue Line ®' (P-1929)
Each $7.75
Add to Cart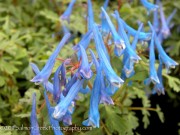 Keenly selected on a collecting trip to Sichuan, China by Dan Hinkley, 'Blue Heron' heralds the largest, darkest richly blue blooms of all our offerings. fine cut blue-green foliage graced with a gossamer-like delicacy showcases these fragrant sapphire-blue flowers. The refreshing cool colors command our attention amid fellow shade dweller Epimedium 'Frohnleiten'.
Blooms April – June.
Size: 9" high x 12" wide; hardy to zone 6.
Corydalis curviflora var. rosthornii 'Blue Heron' (P-1442)
Each $7.75
Add to Cart