Philadelphus (Mock Orange)
at Digging Dog
Including Philadelphus 'Snowbelle', Philadelphus 'Snow Dwarf', and Philadelphus mexicanus 'Plena'

Philadelphus
Mock Orange
First introduced to Europe along with lilacs by Ambassador Ogier Ghiselin de Busbecq in 1562, this classic and easy-to-grow hollow-branched shrub was used by the Turks to make pipes. Its Latin name means "brotherly love" and its orange-blossomlike fragrance has enhanced teas, perfumes, and almost certainly, many friends' walks in the garden.
View a slideshow of plant images from this genus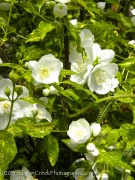 We like to inhale the intoxicating orange sweetness given up by these freely borne, pure white blossoms that openly welcome. Gathered at branch tips, the large 4-petaled flowers garnish ovate green leaves randomly splashed and streaked with creamy whites, yellows and golds. A courtly perfumed scene stealer, this 1900s Lemoine Nursery cross between Philadelphus microphyllus and Philadelphus coronarius matures into an imposing shrub with fluid, arching branches.
Blooms June.
Size: 8' 0"–10' 0" high x 8' 0" wide; hardy to zone 5.
Philadelphus 'Innocence' (S-0613)
SOLD OUT!
Email me when this plant is available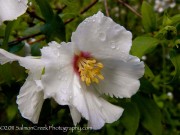 Its name conjures thoughts of beautiful stars (Belle Etoile). Brushed with maroon at the base of each of the four petals, the white flowers unfurl just when spring blooming shrubs are finishing their display. In close proximity to an entrance or walkway amid Luzula 'Auslese' and Geranium 'Ingwersen's Variety', this graceful shrub is easy to grow, deliciously scented and unmistakably choice.
Blooms July–September.
Size: 6' 0"–8' 0" high x 6' 0" wide; hardy to zone 5.
Philadelphus x lemoinei 'Belle Etoile' (S-0110)
SOLD OUT!
Email me when this plant is available
Of all our selections, this one smells the sweetest. The elegant cream-colored double flowers are bowl-shaped and the green foliage remains glossy and crisp even under stress from heat and sun. Ours grows at the base of an apple tree,constantly tempting us to put aside work for awhile and linger in its scent.
Blooms August–October.
Size: 5' 0"–6' 0" high x 5' 0"–6' 0" wide; hardy to zone 9.
Philadelphus mexicanus 'Plena' (S-0245)
Each $11.75
Add to Cart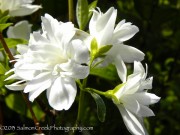 If space is a premium in your garden and you're searching for an ambrosial delight, you may want to try this short-sized, winter-rugged Canadian beauty. Oval-shaped dark green leaves and upright arching stems craft a closely knit foil for the crisp white abundance of splendid 4-petaled flowers. With its neat, dwarf appearance and perfumed summer blossoms, 'Snow Dwarf' can be featured as a container specimen or positioned somewhere close to the frontlines.
Blooms May – June.
Size: 2' 0"–3' 0" high x 2' 0"–3' 0" wide; hardy to zone 4.
Philadelphus 'Snow Dwarf' (S-0676)
Each $11.75
Add to Cart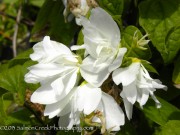 Gorgeous terminal clusters of snowy white, double blossoms ring in summer, filling the air with zesty citrus aromas. Whether it's 'Snowbells's diminutive deep green foliage, the bouquets of a June wedding or a vase on your table, the amazing floral profusion affords a timeless elegance. Small enough for a garden urn or for flanking a pathway, this handsome, low growing Canadian cultivar exhibits a tidy, compact profile, and exceptional heat and cold tolerance.
Blooms May–June.
Size: 4' 0" high x 4' 0" wide; hardy to zone 4.
Philadelphus 'Snowbelle' (S-0660)
Each $11.75
Add to Cart
A stellar gathering of newly emerging leaves infused with bronze and purple hues and large single white sterile flowers exquisitely cradled by dark purple calyxes are this hybrid's distinctive signature. Recently developed at the Memorial University Botanical Garden in Newfoundland by Dr. Wilf Nicholls, 'Starbright' inherits Philadelphus delavayi's classy perfumed blooms and the dogged constitution of Canadian born, Philadelphus lewisii, which withstands drought, deer and cold. Its appealing dense upright frame can be successfully segued into mixed plantings, either massed or as a stand-alone specimen. (pp#18,651)
Blooms June–July.
Size: 8' 0"–9' 0" high x 6' 0" wide; hardy to zone 3.
Philadelphus 'Starbright' (S-0764)
SOLD OUT!
Email me when this plant is available
Pure white semidouble blossoms create a delightful passage, ushering the last days of spring into summer's warm embrace. Distinguished by a lovely orange scent, the pearly-hued profusion of large, cut flower-perfect blooms nearly envelopes 'White Rock's pleasing rounded habit. Appreciative of bright, somewhat moist, well-drained sites and a trim once the flowers are spent, this Philadelphus beckons us when in bloom, while its deciduous rich green foliage maintains a tailored appearance throughout the season.
Blooms May-June
Size: 4' 0"–6' 0" high x 5' 0"–7' 0" wide; hardy to zone 4.
Philadelphus x 'White Rock' (S-0793)
SOLD OUT!
Email me when this plant is available
Saturday Strolls & Plant Chats 2018!
Saturdays at 2 p.m. July 14th and 28th, August 18th, and September 15th. Stroll with Horticulturalist Deborah Whigham, sip iced tea, nibble on tasty snacks & take home helpful gardening tips & tricks!
Current Staff's Favorite Plant