Catalog
Order the Catalog printed on genuine paper for $2.
Add to Cart
Digging Dog Nursery
a retail and mail order plant nursery specializing in unusual and hard to find perennials, ornamental grasses, shrubs, trees, and vines.
31101 Middle Ridge Rd.
Albion, CA 95410
phone:
(707) 937-1130
fax:
(707) 937-2480
Visit Us!
Summer Hours:
Wednesday–Saturday: 10am–4pm
Stipa
at Digging Dog
Including Stipa arundinacea, Stipa gigantea, and Stipa ramosissima

Stipa
The species of this widely distributed genus of cool season grasses are evergreen in milder climates. The jointed, bamboo-like flower stalks lend an Asian look to many of the showy varieties. The flowers are stunning in morning and end of the day light, and in the breezes of any hour.
Pheasant's Tail Grass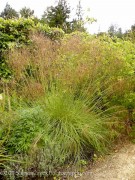 Like a fountain, the green, bronze and golden narrow blades are upright and arching. Slightly dry soils will intensify the copper tones of this graceful, clumping evergreen Stipa. While grown mostly for its delightful form and color, the subtle inflorescences appear as a fine mist, tinged with small purple and golden seed capsules known as awns.
Blooms June–September.
Size: 2' 0" high x 2' 0"–3' 0" wide; hardy to zone 8.
Stipa arundinacea (G-0077)
Each $8.25
Add to Cart
Giant Feather Grass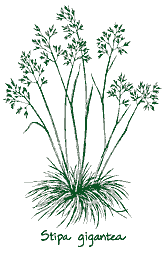 The first time we saw this show-stopper, we had to ask, "Is it from the tropics, or straight out of America's bread basket?" In fact a native of Spain, Stipa gigantea boasts 7 ft. tall, jointed stalks that resemble lean bamboo, with airy 10 in. panicles of oatlike flowers that begin as purple-on-green, ripening to pale, metallic gold. The graceful gray-green foliage remains a tidy 2 ft. hummock. This unforgettable display continues all winter, and may bloom as early as February in milder climates. We recommend a gentle breeze and backlighting for full effect. Drought tolerant once established.
Blooms June–November.
Size: 6' 0"–7' 0" high x 4' 0" wide; hardy to zone 7.
Stipa gigantea (G-0024)
Each $8.25
Add to Cart
AVAILABLE AUGUST 2018
Pillar of Smoke
Hailing from Down Under, Australia's 'Pillar of Smoke' explodes with 6 to 8 in. whorl-branched panicles of silky copper-colored flowers that age to a smoky silver. The amazing floral plumes are held on sturdy, jointed stems amidst towering clumps of bright green foliage.
Undaunted by wind, poor soils and some drought, this strong-growing, cool season evergreen is perfect for southern and western gardens, as well as coastal sites.
Blooms February–September.
Size: 6' 0"–7' 0" high x 3' 0" wide; hardy to zone 9.
Stipa ramosissima (G-0037)
Each $8.25
Add to Cart
Saturday Strolls & Plant Chats 2018!
Saturdays at 2 p.m. July 14th and 28th, August 18th, and September 15th. Stroll with Horticulturalist Deborah Whigham, sip iced tea, nibble on tasty snacks & take home helpful gardening tips & tricks!
Current Staff's Favorite Plant