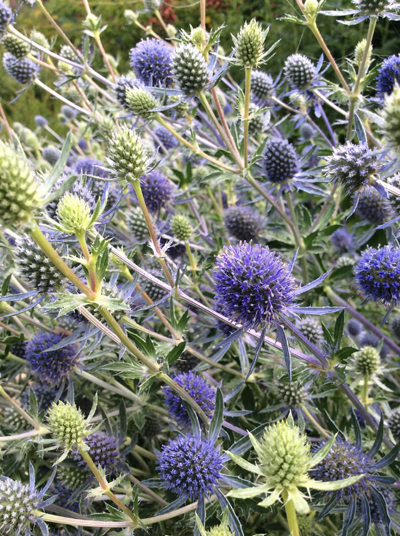 Our featured plant: Eryngium planum 'Blue Glitter'
Stellar blue flowers that deer forego, water-thrifty and other deer-proof plants!
These deer-proof perennials...
offer a variety of blue flowers that lend eye-catching intrigue to the landscape or a bouquet.
More deer-proof plants plus favored water-shy selections...
Many of our customers frequently ask us to suggest plants that are undaunted by either deer or dry conditions. In this newsletter, we've featured a diverse group of plants, including not only perennials, but a handful of grasses and shrubs as well. Many selections boast steadfast temperaments, while others offer blooms that are long-lasting, late-blooming, pollinator-friendly or tailor-made for arrangements. And all are brimming with good looks, which goes without saying!

Please note: A plant's deer-tolerance depends on the locale, the particular herd, the time of year, plus the recent weather conditions, especially rainfall. The ability of a plant to endure dry conditions varies with sun exposure, humidity and soil type.

Happy Digging!