Saturdays at 2 p.m. July 14th and 28th, August 18th, and September 15th. Stroll with Horticulturalist Deborah Whigham, sip iced tea, nibble on tasty snacks & take home helpful gardening tips & tricks!
Saturday Strolls & Plant Chats 2018!
Current Staff's Favorite Plant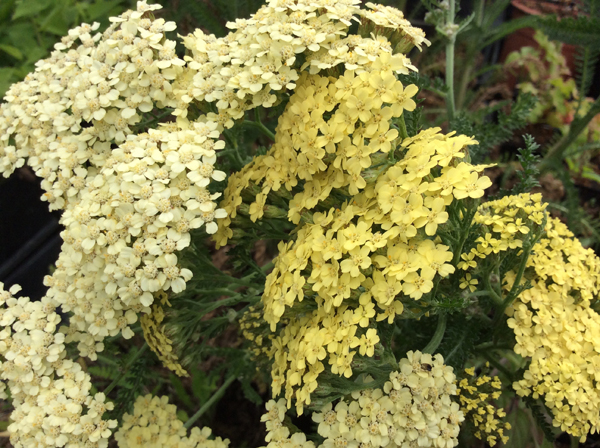 Our featured plant: Achillea 'Hella Glashoff'
Amazing Achilleas, Invigorate your summer plantings!
Amazing Achilleas…. These sturdy, dependable perennials produce small indivdual blooms that populate broad, flat flower heads, lending welcome horizontal elements to any garden bed. Ideal for bouquets, fresh or dried, the long-lasting blossoms range in color from alabaster to soft yellow and gold, as well as terracotta, pink and sassy red. Cut back their flowers in midsummer and enjoy a fall encore! Spicy scented, attractive fern-like green or gray-tinged foliage cloaks their strong straight stems. Slowly spreading and somewhat drought tolerant, Yarrow seem to thrive on neglect. They can handle low soil fertility plus coastal wind and salt spray. Be sure to check out our diverse on-line Achillea selections!
Invigorate your summer plantings.… A few simple maintenance techniques will help plants appear fresh throughout the upcoming dog days of summer. The addition of a chipped bark mulch or well-rotted compost, applied as a top-dressing, not only reduces water requirements, but generally makes it easier for plants to maintain perky looking leaves and vigorous habits. A July or early August trimming of long-blooming perennials, such as Nepetas and most Geraniums ensures myriad flowers that will keep on coming 'til the first frost. Featured in this newsletter, you'll find the fabulous plants that caught my eye as Boobah and I took our morning walk through the nursery and adjacent display borders this past week. Hopefully, you'll have room to ensconce several of them in a well-traveled spot. Happy Digging!
Digging Dog's August 2018 Newsletter Link
For a peek at some past newsletters, please visit the following links:
Digging Dog's Late July 2018 Newsletter Link
Digging Dog's July 2018 Newsletter Link
Digging Dog's June 2018 Newsletter Link
Please fill out our Registration Form to receive news of updates to the web site, availability of new plants, give us your feedback, and to be on the mailing list to receive future printed catalogs.