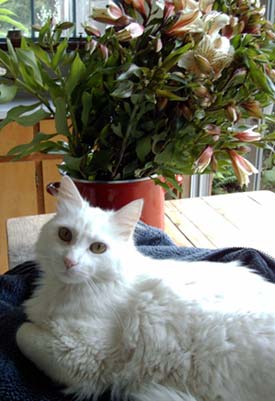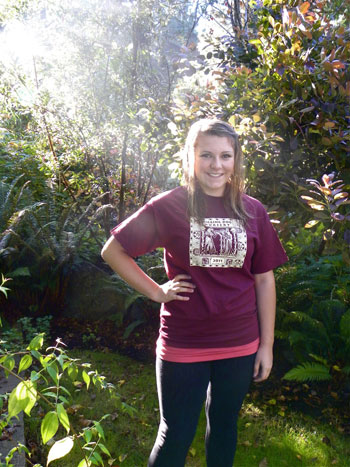 We are a small family-run business, growing high quality plants that you can count on to be healthy, vigorous and ready to plant. As landscape designers and nursery-folk, we offer a selection of tried and true garden performers, as well as many new varieties that excel for easy care, long blooming periods, year-round interest, and most of all, for versatility.
When you visit or call us, chances are you will be greeted by one or more of these friendly and conscientious folks:
Neptune & Boobah : Welcoming Committee, General Security & Entertainment
Parker : Mouse Patrol
Jessica Ballard: Mail Order Prepping, General Nursery Care, Potting
Krystal Brink: Office Assistant
Lynn Chrysler: Propagation Specialist & Shipping & Packing Manager
Debbie Cruz: Mail Order Prepping
Jessica Alexis Friedland: Photography
Elyse Gay: Nursery Care & Seed Sowing
Jeri Hegenbart: Office Assistant
Zak Karkruff: Mail Order Overseer, Nursery Care, Potting & Propagation Specialist
Marie Keller: Social Media, Advertising & Publicity
Cullen O'Bryan: General Nursery Care & Potting
Welcome, Old and New Friends of Digging Dog Nursery…
Time moves swiftly, and our ever-changing landscapes mark its passage. As the plants settle into their wintertime slumber, visions of next year's gardening season are already taking root and our 2018 Digging Dog catalog is fresh off the press. We hope you'll put your gardening chores on hold 'til tomorrow so you can leaf through the pages of our 26th edition, which includes well over 90 new selections in addition to choice older offerings from years past.
These remarkable plants promote either versatility, exceptional beauty, long-lasting intrigue, or an enduring, easy-care fortitude. Of course, their ability to charm garden mavens and beneficial pollinators alike in an array of locales across the country is a must. A few of this year's favored recommendations follow.
Amidst the perennials, you'll unearth floral and foliar enticements, such as the ornate purplish red domed flowers of Astrantia 'Midnight Owl', the white-blooming Baptisia 'Ivory Towers' or Asclepias 'Ice Ballet's luminous butterfly-friendly umbels. The Japanese Wood Fern unfurls otherworldly black-stemmed croziers, shiny evergreen fronds, and an upstanding princely aspect for shady niches. American denizens Rudbeckia 'Viette's Little Suzy', Phlox 'Chattahoochee', and aromatic Salvia 'Winnifred Gilman' all interweave plucky mettles with unwavering good looks.
Many of the ornamental grasses we've added debut graceful silhouettes and prismatic allure. A Texas-born toughie, Andropogon 'Lord Snowden's Big Blue' sprouts a powder-blue and mauve-infused habit, while the Queen of our mid-Western prairies, Sporobolus heterolepis affords coppery orange blades in autumn plus urbane fine-hewn inflorescences that delight the birds. Enjoy the sculptural corkscrewing leaves of Juncus 'Big Twister' coupled with Molinia 'Transparent's lacy light-catching floral haze.
Why not beef up your garden by adding more shrubby backbone? Both lustrous Little Leaf Kinninnick and sweet-smelling Daphne 'Lawrence Crocker' are low-growing evergreens. Promising a visual feast, there's Clethra 'Ruby Spice', whose showy flower spikes perfume the late season border, Malvaviscus arboreus's exotic turban-style vermilion blooms, and the plump brilliant red berries of Hypericum 'Compact Red'.
Maybe you're on the lookout for a sterling vine. Clematis such as century-old C. armandii 'Snowdrift', bestowing an avalanche of luxe vanilla-scented blooms, lavish midnight-purple flowering C. 'Romantika', or the enchanting steel-blue bells of C. integrifolia 'Blue Boy' easily fit the bill. Or maybe you need to dampen street noise—Aristolochia durior's tropical-looking visage swiftly furnishes a handsome verdurous screen.
Your ongoing support, encouraging compliments, helpful insight, and welcome visits have assured the continued success of our business. We are extremely grateful and truly appreciate each and every one of you, our much-valued customers and kindred plant lovers.
Our gardens serve as living sanctuaries where we can sojourn in a natural realm. They give us the opportunity to feel humbled, surprised, or awestruck, while nourishing ourselves, our loved ones, droves of bees, butterflies, and hummingbirds, as well as song birds and other wildlife.
All of us humans here at the nursery, along with the lone kitty, Parker, and our pups, elderly and lovable Neptune plus spunky Boobah (who at 8 ¼ pounds has become our self-appointed nursery overseer) hope you experience the joys of digging in, strolling through and nurturing a garden of your own.
May our plants inspire you with their myriad possibilities and give you good reason to linger outside just a little longer!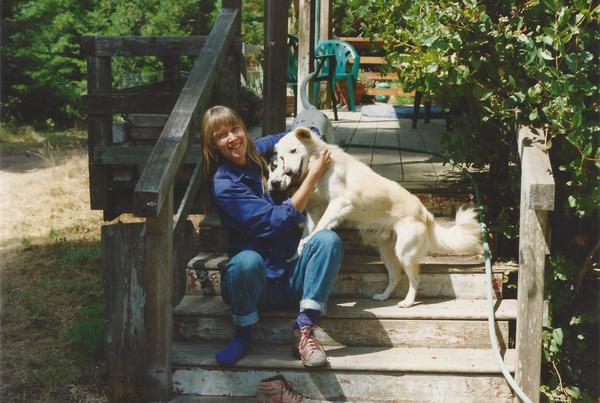 Digging Dog in the News!

A prominent garden blogger, Kristin of LandFieldSky, tours the nursery and brings her camera: "Digging Dog Nursery" in Garden Lust; One designer's musings, longings, and observations about all things garden, style, plant, and good, September 24, 2011
Another photo tour by a gardener/blogger, Donna of TheRadishPatch.com: "Digging Dog Nursery – Worth a Visit!" August 5, 2013.
The nursery and surrounding gardens are featured in the eight page article: "American Dream" by Kate Frey in Gardens Illustrated (sorry, long-past issues do not appear available), July, 2009
A photo-tour of the nursery grounds by photographer Karl Gercens: "Digging Dog Nursery," May 7, 2011.
The cover of Martha Stewart Living, and article: "Paths to Greatness" by Susan Heeger, photographs by Marion Brenner, pages 139-147, Martha Stewart Living (sorry, no images or articles available), March, 2006
"15 Years of the Best Gardening Sources," Martha Stewart Living.
"Secret Garden: At Digging Dog Nursery on the Mendocino Coast, there's much more than what first meets the eye", by Meg McConahey, Santa Rosa Press Democrat, June 17, 2006
"Digging Dog Nursery, a rare jewel, with a fully conceived landscape… features a wide variety of plants from all over the world…": "Digging Dog Nursery unearths unusual plants", by Miriam Owen, San Francisco Chronicle, September 9, 2006.
"Digging Dog Nursery in Mendocino," Petaluma's BlogTown USA, Sue Wilcox, Petaluma Argus Courier, September 28, 2006. (Great photos of the Digging Dog gardens, a detailed discussion of Wilcox's visit to Digging Dog, and info about Gary's garden design and Deborah's unusual selection of plants.) "If you're the sort of person who likes out of the ordinary plants, the garden path less traveled leads through this nursery." ~Sue Wilcox
Fine Gardening Magazine's September-October 2006 issue lists Digging Dog Nursery as one of its 8 favorite destinations for plant shopping. Fine Gardening, Garden Variety, page 18, Sept.-Oct. 2006.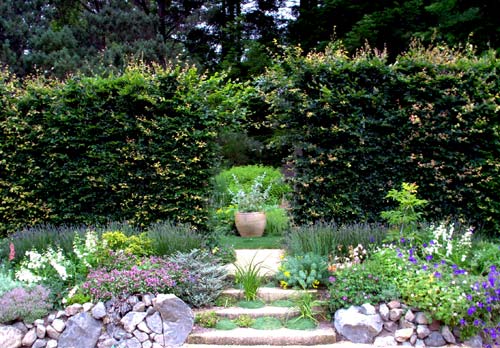 Please fill out our Registration Form to receive news of updates to the web site, availability of new plants, give us your feedback, and to be on the mailing list to receive future printed catalogs.