Due to extremely high demand, any orders received after April 18th may not be processed for approximately 2-5 weeks. Please know our dedicated plant wranglers are utilizing all necessary resources and working as diligently as possible to ship your plants in a safe and timely fashion. Thank you for your orders, as well as your patience and understanding in these difficult times. We wish you good health and happy digging!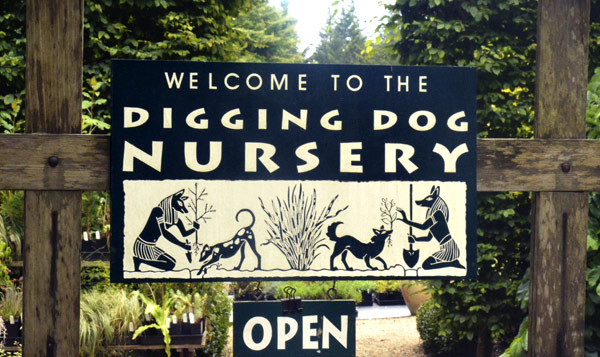 Digging Dog Nursery is a family-owned nursery and mail-order business situated on the Mendocino Coast in Northern California. Our nursery offers healthy and vigorous plants grown in our own custom potting mix that includes a sterilized sandy loam. We propagate the majority of the plants we sell.
For more than 20 years, we have been offering a selection of tried and true garden performers, as well as many unique and easily grown varieties that emphasize long blooming periods, and year-round appeal with an array of buds, blooms, seedheads, berries, intriguing foliage, or bark.
In the following pages, you will find a versatile and extraordinary collection—a plethora of plants for formal or informal spaces, as well as naturalized meadows, shady woodland areas, Mediterranean and water-wise gardens, the rockery, and even some market plantings with a focus on fresh or dried arrangements.
You can order plants from our website, from our printed catalog, by phone, or come visit our nursery. Our nursery is open to visitors seasonally.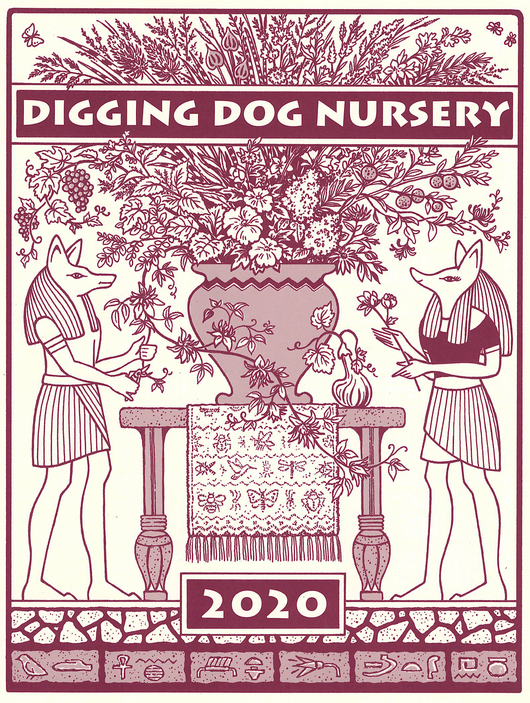 Search for Plants in Our Catalog
Enter the name, or part of the name, of a plant you are looking for:
You'll find a diverse selection of unusual plants in these and many other genera in the Digging Dog site:
There does not seem to be any news today. Check back later!
Current Staff's Favorite Plant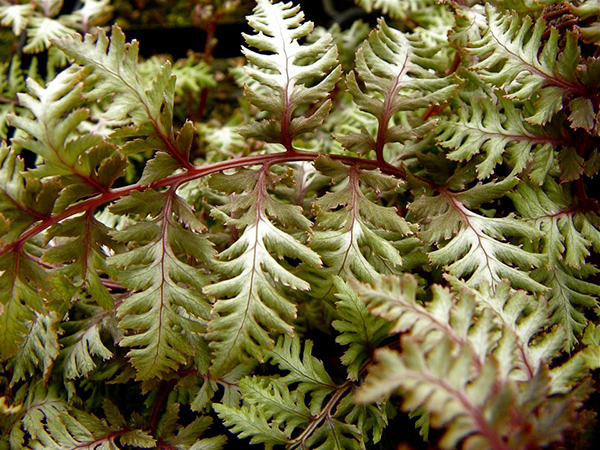 Fresh Fern Fronds...
Coveted for their artfully hewn fronds, the deciduous ferns featured above unfurl spritely new fiddleheads every spring. Varying shades of green, silver, henna and burgundy embellish their delicate-looking foliage. Tailor-made for shady nooks, these easily-grown flowerless perennials can be planted as specimens or en masse in shade gardens, mixed borders and woodland settings. They also lend exquisite feathered accents to patio containers or cut arrangements. Ferns flourish in cool moist well-drained locales enriched with compost or well-rotted manure. Feel free to peruse the Perennial section of our website for other Athyrium & Dryopteris species.
Exquisite early Clematis and marvelous March foliage...
Early-blooming Clematis herald spring with charm to spare. The armandii, alpina and montana Clematis species are generally the first to flower, with some even wafting sublime scents. Clematis armandii 'Snowdrift' and Clematis montana 'Elizabeth' sprout larger statures than the more petite Clematis alpina 'Constance' or 'Jan Lindmark', while all showcase beguiling blooms. These delightful vines can twine up arbors, trellises, walls or trees, offering vertical accents to the fresh flourish of head-turning foliage that blankets the beds beneath. The new growth featured in this newsletter was photographed this week in our garden and nursery.
All of us plant wranglers at the nursery, along with Boobah, our wee greeter and self-appointed nursery manager, and shy kitty, Parker, wish you countless happy hours digging in a garden of your own!
Visit Us!
Summer Hours:
Wednesday–Saturday: 10am–4pm