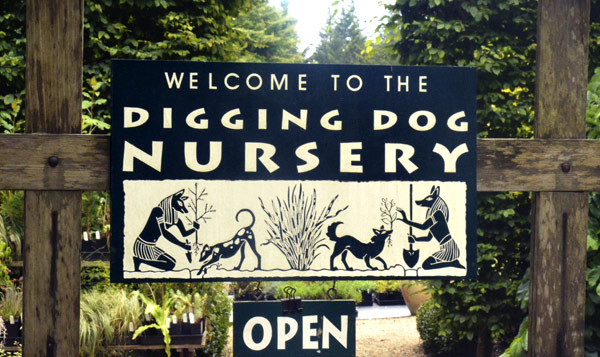 Digging Dog Nursery is a family-owned nursery and mail-order business situated on the Mendocino Coast in Northern California. Our nursery offers healthy and vigorous plants grown in our own custom potting mix that includes a sterilized sandy loam. We propagate the majority of the plants we sell.
For more than 20 years, we have been offering a selection of tried and true garden performers, as well as many unique and easily grown varieties that emphasize long blooming periods, and year-round appeal with an array of buds, blooms, seedheads, berries, intriguing foliage, or bark.
In the following pages, you will find a versatile and extraordinary collection—a plethora of plants for formal or informal spaces, as well as naturalized meadows, shady woodland areas, Mediterranean and water-wise gardens, the rockery, and even some market plantings with a focus on fresh or dried arrangements.
You can order plants from our website, from our printed catalog, by phone, or come visit our nursery. Our nursery is open to visitors seasonally.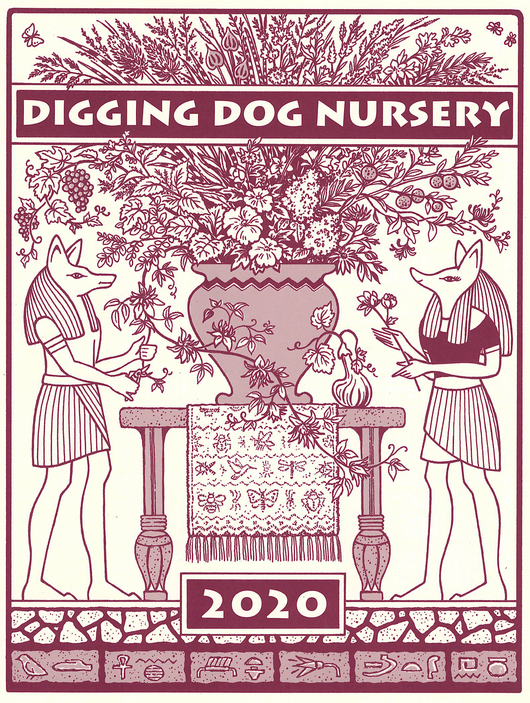 Search for Plants in Our Catalog
Enter the name, or part of the name, of a plant you are looking for:
You'll find a diverse selection of unusual plants in these and many other genera in the Digging Dog site:
There does not seem to be any news today. Check back later!
Current Staff's Favorite Plant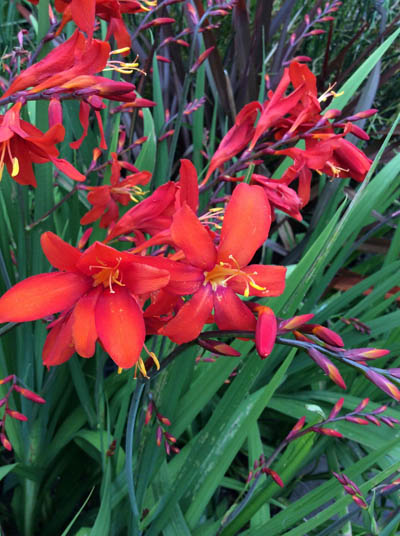 Captivating Crocosmias!
Crocosmias boast a bounty of late summer color as our gardens transition into autumn. Displayed on the ends of gracefully arching spikes above winsome sword-like leaves, the clustered tubular flowers range from yellow, peach and orange to fire-engine red. The prismatic tones meld well with white-flowering Hydrangeas and perennials such as Selinium wallichianum, Actaea simplex 'Atropurpurea', Alcea 'Polarstar' or Aster 'Bridal Veil'. The yellow and melon shades sparkle amid the blue blossoms of Aconitum, Caryopteris 'Longwood Blue', Perovskia 'Blue Steel' and Aster 'Little Carlow'. For sizzling fun you could create a hot border, intermingling them with Kniphofia 'Bee's Sunset', Helenium 'Potter's Wheel' or Helianthemum 'Fire Dragon'. Be sure to add some to your next cut arrangement!
Commonly known as Montbretia, they do their best when provided with good drainage, moderate moisture and some protection from hot afternoon sun. Please feel free to check out our extensive collection of Crocosmia cultivars in the perennial section of our online catalog.
Dodge the Dog Days of summer….
with plants that pack a punch of blooms and alluring leaves at this time of year. By late August, our borders can look a tad tired and may be in need of some sprucing up. Adequate moisture and an additional application of compost will ensure late summer vitality. You can trim perennials, such as Nepetas and Geraniums, and savor their fresh new growth plus a flourish of blooms, often until the first frost! We hope some of the plants featured in this newsletter lift your spirits and maybe even inspire a little awe as summer wanes.
All of us Digging Dog plant wranglers wish you Happy Digging and good health.