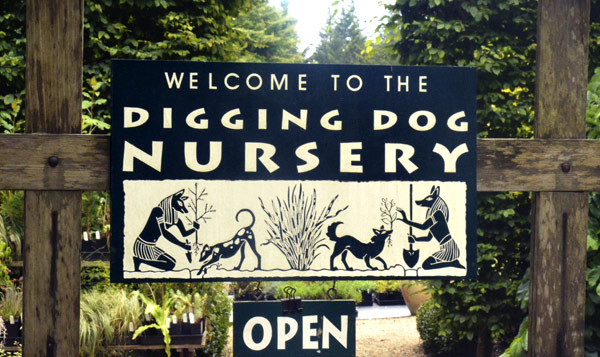 Digging Dog Nursery is a family-owned nursery and mail-order business situated on the Mendocino Coast in Northern California. Our nursery offers healthy and vigorous plants grown in our own custom potting mix that includes a sterilized sandy loam. We propagate the majority of the plants we sell.
For more than 20 years, we have been offering a selection of tried and true garden performers, as well as many unique and easily grown varieties that emphasize long blooming periods, and year-round appeal with an array of buds, blooms, seedheads, berries, intriguing foliage, or bark.
In the following pages, you will find a versatile and extraordinary collection—a plethora of plants for formal or informal spaces, as well as naturalized meadows, shady woodland areas, Mediterranean and water-wise gardens, the rockery, and even some market plantings with a focus on fresh or dried arrangements.
You can order plants from our website, from our printed catalog, by phone, or come visit our nursery. Our nursery is open to visitors seasonally.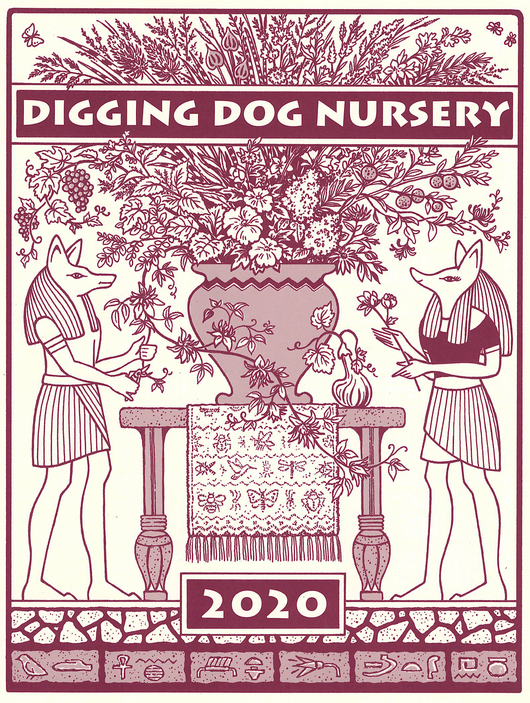 Search for Plants in Our Catalog
Enter the name, or part of the name, of a plant you are looking for:
You'll find a diverse selection of unusual plants in these and many other genera in the Digging Dog site:
There does not seem to be any news today. Check back later!
Current Staff's Favorite Plant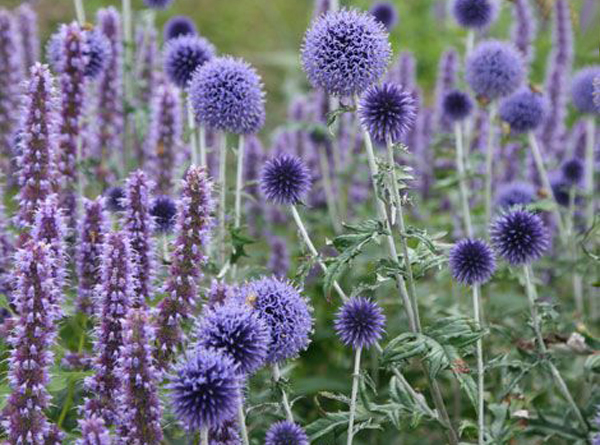 Extraordinary Echinops!
Donning either frosty white, cobalt blue or steel-blue tones, the stunning floral orbs are perched atop straight sturdy stems with handsome jagged-edged foliage. These undemanding European natives prefer sunny well-drained niches, but can tolerate poor, sandy or rock-strewn sites. Cherished by pollinators, floral designers and plant connoisseurs alike, Echinops lend a statuesque presence to formal borders, cottage gardens, meadow-style plantings or cut arrangements.
Welcome pollinators into your garden….
with blooms that promise to buoy your spirits plus entice a plethora of pollinators, including moths, butterflies, hummingbirds and other beneficial insects.
Most of are aware of the alarming decline in our bee and and butterfly populations. Recent studies indicate that planting a garden of any size, whether it's a substantial meadow or even a container, can attract and nourish pollinators. A network of pollinator gardens in neighborhoods, cities and rural areas throughout our country could provide enough habitat to maintain healthy communities of pollinators and other beneficial insects.
We can make a difference by including numerous plants that benefit pollinators in our landscapes. We hope this selection of pollinator-friendly plants will inspire you to dig some into your garden.
Happy August and Happy Digging from all of us Digging Dog plant wranglers!