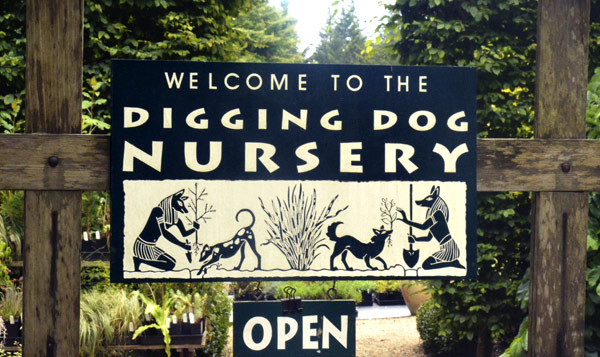 Digging Dog Nursery is a family-owned nursery and mail-order business situated on the Mendocino Coast in Northern California. Our nursery offers healthy and vigorous plants grown in our own custom potting mix that includes a sterilized sandy loam. We propagate the majority of the plants we sell.
For more than 20 years, we have been offering a selection of tried and true garden performers, as well as many unique and easily grown varieties that emphasize long blooming periods, and year-round appeal with an array of buds, blooms, seedheads, berries, intriguing foliage, or bark.
In the following pages, you will find a versatile and extraordinary collection—a plethora of plants for formal or informal spaces, as well as naturalized meadows, shady woodland areas, Mediterranean and water-wise gardens, the rockery, and even some market plantings with a focus on fresh or dried arrangements.
You can order plants from our website, from our printed catalog, by phone, or come visit our nursery. Our nursery is open to visitors seasonally.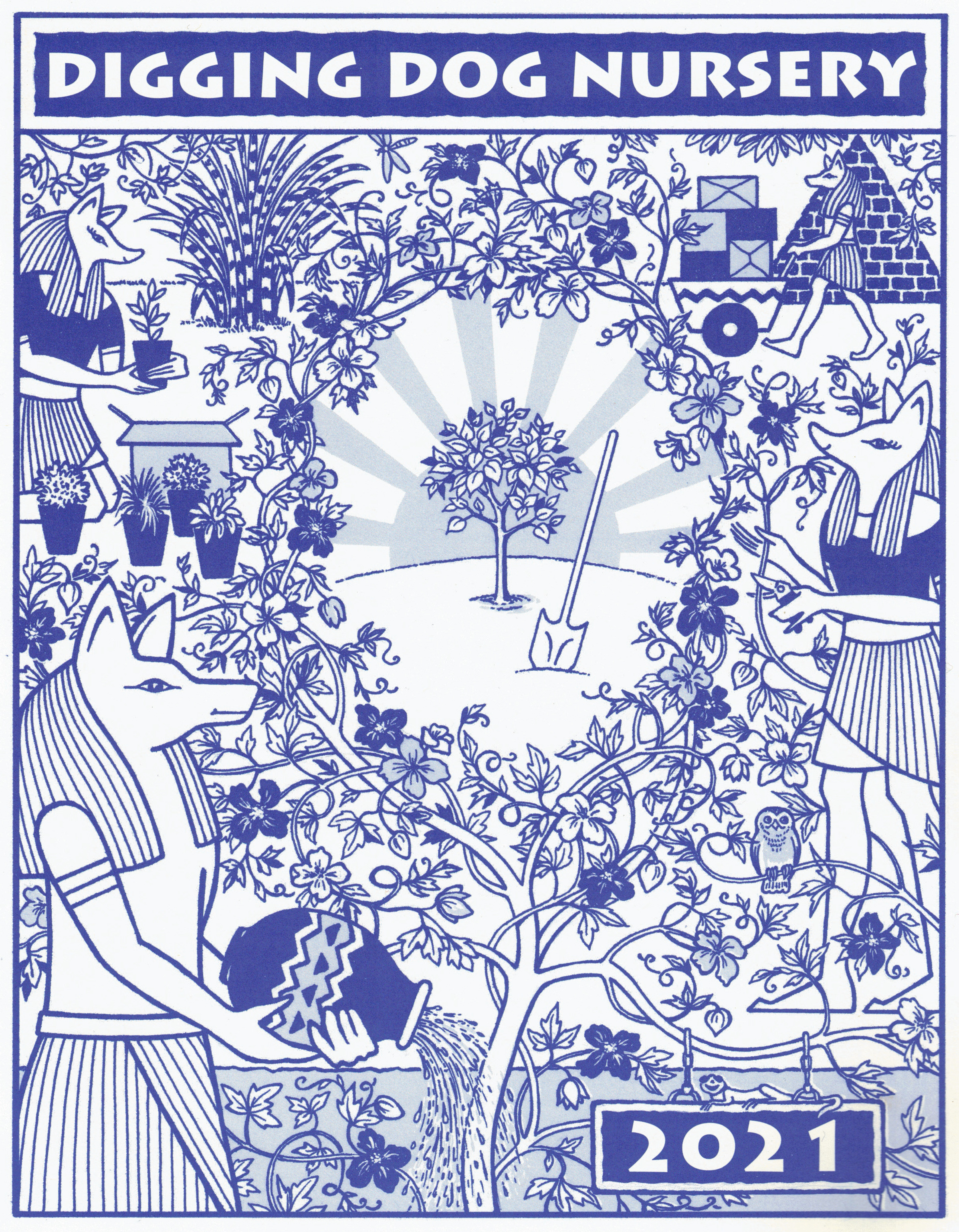 Search for Plants in Our Catalog
Enter the name, or part of the name, of a plant you are looking for:
You'll find a diverse selection of unusual plants in these and many other genera in the Digging Dog site:
Hot Diggity Dog! Our Website is open for orders!
Welcome back to Digging Dog's Website!
There are a few things we wanted you to know to help us help you receive your plants in a timely fashion. Please take a look at the following info:
• Is your email address correct? To receive our emails in your inbox, please add business@diggingdog.com to your contacts.
• Please note that your payment method will not be charged until Digging Dog has prepared your order for shipping, unless other arrangements are made.
• Digging Dog Nursery's plants are exposed to all of the natural elements, and are grown with a low-carbon footprint. That said, their shipping readiness is dependent on the weather.
• You may receive your order in 1 or more shipments, and not until the plants are ready.
• Digging Dog Nursery is tended by a team of about a dozen paper and plant wranglers, and is not a big mass market operation.
• It may take 5 days to 2 weeks to receive shipping and availability status once your order is submitted.
• We appreciate your patience, kindness and respect.
• Multiple inquires may cause your order to be delayed.
Are you thinking about contacting us? Please view some F.A.Q.'s
• POT SIZES: Our pot sizes are only listed on the Trees section, as our inventory changes and grows so quickly that it is impossible to list the container sizes. If you have concerns, please submit a list and we will gladly let you know their sizes. We ship well-established plants which are grown in the following container sizes:
Small band: 2-½" square x 5" deep
Medium Band: 3" square x 5-½" deep - (The majority of our perennials & grasses)
Squat Band: 3-¾" square x 4-½" deep
Large Band: 4 square x 6 deep - (Most of our trees & many of our shrubs)
Digging Dog ships potted plants in their containers, and their firm intact root balls are inspected before shipping.
• YOU DIDN'T RECEIVE AN E-MAIL FROM US?: Please add business@diggingdog.com to your contacts to receive our emails directly in your Inbox, otherwise kindly check your Spam or Junk email folder for an automated order acknowledgement from us.
• MINIMUM ORDER: We cannot make exceptions to our minimum order policy.
• Want to read about our sustainable horticultural practices?: Perhaps you may be interested in reading a little bit about our philosophy here at the nursery. We are deeply committed to growing plants in a low-carbon footprint fashion. The majority of our plants are exposed to all of the natural elements. They are either grown outside or in open-sided cold frames, not in climate controlled greenhouses or with the use of growth enhancers and excessive fertilizer applications. We believe this process produces an adaptable and stronger plant. Naturally the weather that we experience during the late winter and early spring months plays an enormous role in a crop's readiness date for spring shipping. That said, we are sadly well aware that there can be delays in projected ship dates, which in turn can cause customer frustrations.
Current Staff's Favorite Plant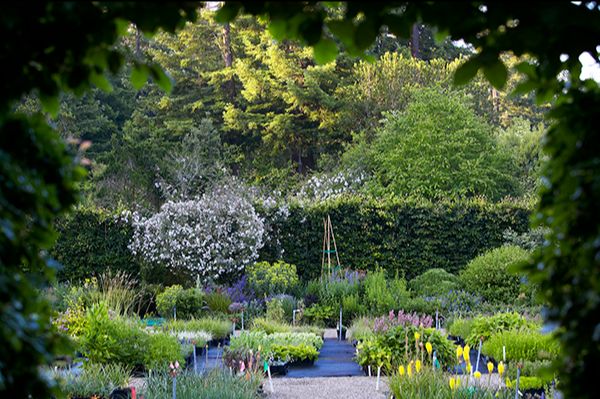 Featured photo: Digging Dog Nursery growing grounds
Website Reopening!
Our website will be open for orders by June 1! Thank you for your phenomenal interest in our plant offerings. We greatly appreciate the patience and understanding you shared, as our Digging Dog team of paper and plant wranglers diligently processed your orders.
In celebration...
of finally opening up our website, this May newsletter features a sampling of our most prized plants. All of them boast stunning blooms, with some wafting delectable scents, while others strut beguiling foliage. We hope these plants will inspire you to dig a handful of them into your garden! We wish you good health, happy digging and plenty of joyous gardening moments.