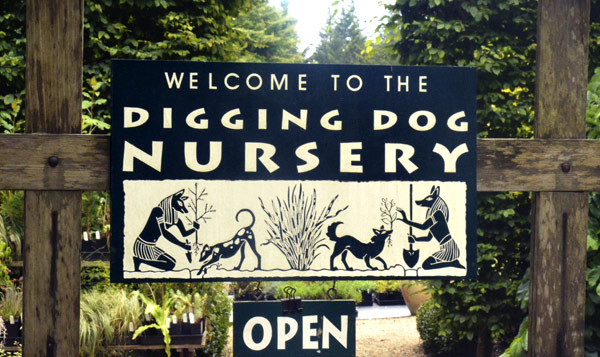 Digging Dog Nursery is a family-owned nursery and mail-order business situated on the Mendocino Coast in Northern California. Our nursery offers healthy and vigorous plants grown in our own custom potting mix that includes a sterilized sandy loam. We propagate the majority of the plants we sell.
For more than 20 years, we have been offering a selection of tried and true garden performers, as well as many unique and easily grown varieties that emphasize long blooming periods, and year-round appeal with an array of buds, blooms, seedheads, berries, intriguing foliage, or bark.
In the following pages, you will find a versatile and extraordinary collection—a plethora of plants for formal or informal spaces, as well as naturalized meadows, shady woodland areas, Mediterranean and water-wise gardens, the rockery, and even some market plantings with a focus on fresh or dried arrangements.
You can order plants from our website, from our printed catalog, by phone, or come visit our nursery. Our nursery is open to visitors seasonally.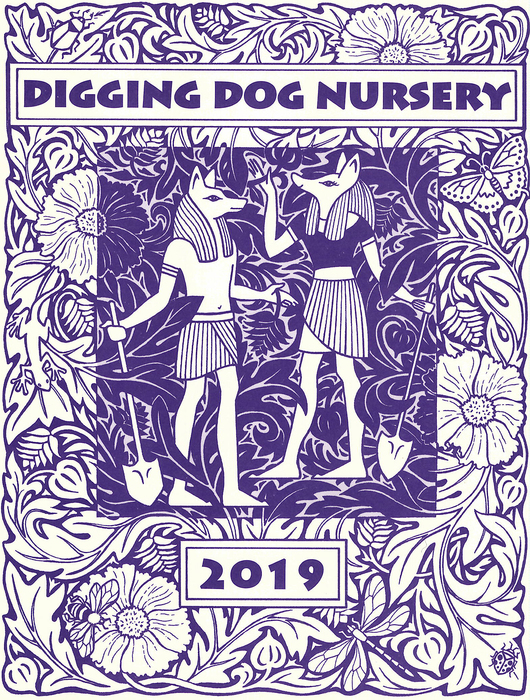 Search for Plants in Our Catalog
Enter the name, or part of the name, of a plant you are looking for:
You'll find a diverse selection of unusual plants in these and many other genera in the Digging Dog site:
There does not seem to be any news today. Check back later!
Current Staff's Favorite Plant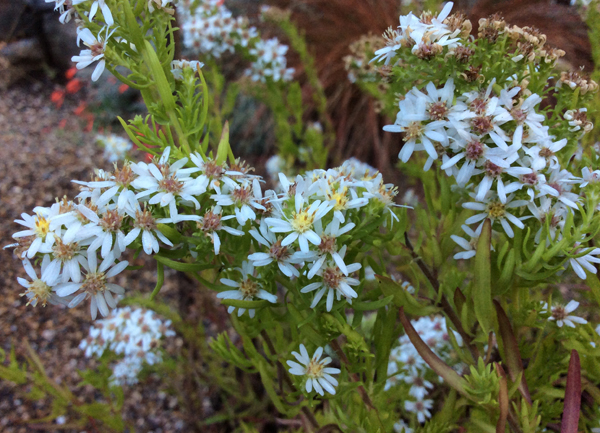 Autumn is for Asters, Pollinator-friendly American natives, Last 2019 Saturday Stroll!
Autumn is for Asters....
Aster's cheerful daisy faces plus the profusion of colors and sizes that make up this genus promise lots of flower power when other perennials have tuckered out. Invaluable for summer and fall gardens, our easy-care Aster offerings are tried-and-true performers in sunny locales with average soil and moderate moisture. Cherished by plant aficionados, flower arrangers, song birds and pollinators, many Aster cultivars work well in either formal or informal venues and can be tucked into stylized meadows, cottage gardens and borders.
Tall ornamental grasses and perennials, like Calamagrostis, Eupatorium purpureum, Panicum or Helianthus serve as intriguing backdrops, while Molinia lends a mysterious element when planted right up front. Late season bloomers such as Persicaria, Solidago, Sedum, Yarrow, Phlox, Verbena bonariensis, Hypericum androsaemum and Selinum wallichianum become colorful cohorts when intermingled with mid-sized Asters!
Beckon American natives and navitars into your garden...
'Navitar' is a relatively new horticultural term coined by esteemed plantsman Dr. Allan Armitage, an author and horticultural professor at the University of Georgia. Navitar refers to both deliberately cultivated selections and naturally occurring variations of native plants. The naturally occurring varieties are often found in the wild or possibly discovered in someone's backyard. Thankfully, many American natives and navitars nourish song birds, bees, hummingbirds and butterflies plus other beneficial insects.
We can make a difference by including numerous plants that benefit pollinators in our landscapes. We hope this selection of natives, nativars and pollinator-friendly plants will inspire you to find some room for them in your border.
All of us Digging Dog plant wranglers wish you Happy Digging!
Visit Us!
Winter Hours:
Wed – Sat: 10am-4pm
Sun & Tue by appointment