Saturday Strolls & Plant Chats 2019!
Saturdays at 1 p.m:
June 29th and 30th
July 13th and 27th
August 10th and 24th
September 14th
Stroll with Horticulturalist Deborah Whigham, sip iced tea, nibble on tasty snacks & take home helpful gardening tips & tricks!
Current Staff's Favorite Plant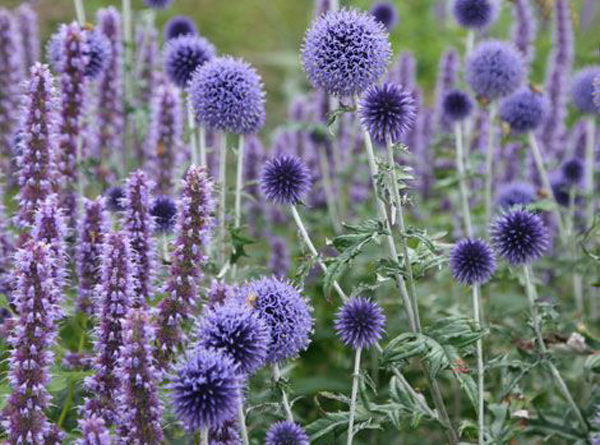 Exceptional Echinops, Plants to freshen up your August garden, Saturday Strolls!
Exceptional Echinops!
The striking floral orbs sport either frosty white, cobalt blue or metallic-blue shades, while perched atop sturdy erect stems with handsome jagged-edged foliage. Cherished by pollinators, floral designers and gardeners alike, Echinops thrive in sunny, well-drained niches, though are tolerant of poor soil as well as rock-strewn or sandy sites. These undemanding European natives are perfect candidates for a formal border, cottage garden, meadow-style planting or a cut arrangement. Be sure to check out our online Echinops offerings.
Cool colors for your summer plantings….
Icy white, pale pink and chartruese shades perk up our August borders, while effortlessly blending with just about any color imaginable. These composed hues provide our eyes with bright, yet soothing focal points and an overall beat-the-heat ambience! Some of our cool-down favorites include: Echinops, Sidalcea 'Elsie Heugh' Euphorbia mellifera, Kniphofia 'Green Jade', Phlox 'David' and Tanacetum 'Isla Gold'. I've also featured a handful of richer-toned flowers that I discovered on my early morning walk today. We hope you'll try sprinkling a few of these perennials amid your landscapes and enjoy both their tranquil or more spirited effects.
Happy August and Happy Digging from all of us Digging Dog plant wranglers!
Please fill out our Registration Form to receive news of updates to the web site, availability of new plants, give us your feedback, and to be on the mailing list to receive future printed catalogs.