There does not seem to be any news today. Check back later!
Current Staff's Favorite Plant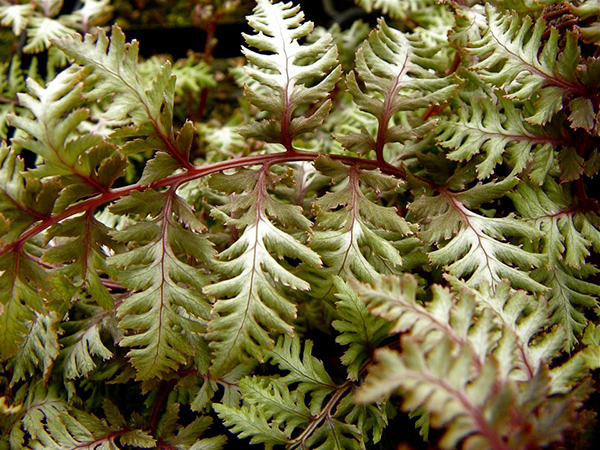 Fresh Fern Fronds...
Coveted for their artfully hewn fronds, the deciduous ferns featured above unfurl spritely new fiddleheads every spring. Varying shades of green, silver, henna and burgundy embellish their delicate-looking foliage. Tailor-made for shady nooks, these easily-grown flowerless perennials can be planted as specimens or en masse in shade gardens, mixed borders and woodland settings. They also lend exquisite feathered accents to patio containers or cut arrangements. Ferns flourish in cool moist well-drained locales enriched with compost or well-rotted manure. Feel free to peruse the Perennial section of our website for other Athyrium & Dryopteris species.
Exquisite early Clematis and marvelous March foliage...
Early-blooming Clematis herald spring with charm to spare. The armandii, alpina and montana Clematis species are generally the first to flower, with some even wafting sublime scents. Clematis armandii 'Snowdrift' and Clematis montana 'Elizabeth' sprout larger statures than the more petite Clematis alpina 'Constance' or 'Jan Lindmark', while all showcase beguiling blooms. These delightful vines can twine up arbors, trellises, walls or trees, offering vertical accents to the fresh flourish of head-turning foliage that blankets the beds beneath. The new growth featured in this newsletter was photographed this week in our garden and nursery.
All of us plant wranglers at the nursery, along with Boobah, our wee greeter and self-appointed nursery manager, and shy kitty, Parker, wish you countless happy hours digging in a garden of your own!
Please fill out our Registration Form to receive news of updates to the web site, availability of new plants, give us your feedback, and to be on the mailing list to receive future printed catalogs.