There does not seem to be any news today. Check back later!
Current Staff's Favorite Plant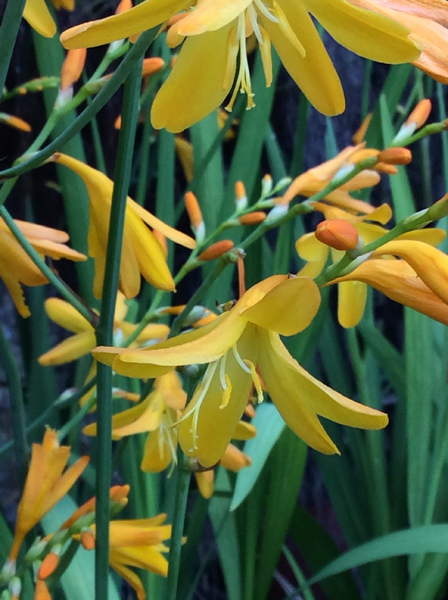 Colorful Crocosmias, Be Awed by your August garden, Saturday Strolls!
Colorful Crocosmias!
Crocosmias pack a punch of late summer color as our gardens transition into autumn. Their clustered tubular flowers populate the ends of gracefully arching spikes, which emerge from handsome sword-like foliage. Ranging from yellow, peach and orange to fiery red, their prismatic shades look exceptional with white flowering perennials such as Phlox 'David', Selinum wallichianum and Aster 'Bridal Veil', as well as the blue blossoms of Aconitum, Agapanthus 'Storm Cloud' or Aster 'Twilight'. For fun you could create a hot border, blending them with Kniphofia, Helenium, Salvia and even other Crocosmia, plus be sure to include some in your next bouquet. Commonly referred to as Montbretia and hardy to Zone 6, they appreciate, good drainage, adequate water and some shade in scorching summer sun. Please feel free to check out our extensive collection of Crocosmia cultivars in the perennial section of our online catalog.
YES, it's possible to be in awe of your late August garden….
At this point in the season, some areas in our gardens may appear a tad worn or lackluster. If you haven't already done so, you may wish to cut back a few tired looking perennials, such as the Nepetas or Geraniums, so you can enjoy a fresh flourish of growth plus more blooms. Adequate moisture and an additional application of compost will also ensure late summer vigor. Incorporating plants that provide a bounty of flowers and alluring leaves in August and September helps buoy our spirits, and hopefully even inspire a little awe as we approach fall. Though the plants featured in this newsletter either promote a bold statement or possess more refined aspects, they equally caught my eye and made me pause to take a closer look. Perhaps they'll spark a wondrous moment for you as well. All of us Digging Dog plant wranglers wish you Happy Digging!
Please fill out our Registration Form to receive news of updates to the web site, availability of new plants, give us your feedback, and to be on the mailing list to receive future printed catalogs.