There does not seem to be any news today. Check back later!
Current Staff's Favorite Plant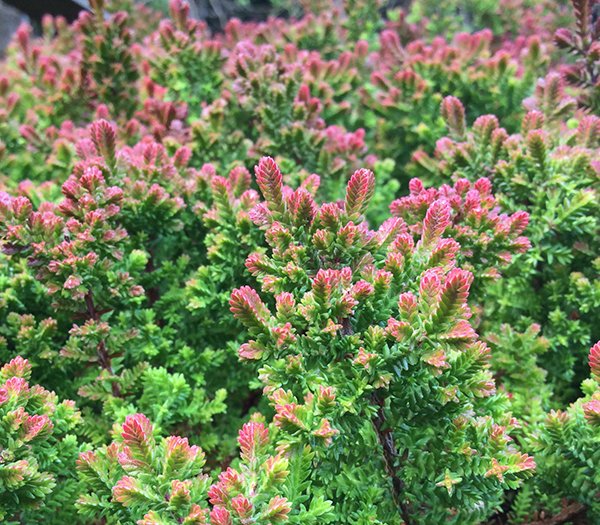 Shrubs for a sprightly spring prelude...
The dainty late winter blossoms of the following deciduous shrubs are a hopeful signal that spring is around the corner. Corylopsis pauciflora offers dangling fragrant primrose-yellow blooms amid graceful branches, while the Flowering Currant produces long-lasting richly colored flowers followed by bird-friendly berries.
In the realm of evergreen shrubs, Calluna vulgaris 'Firefly' celebrates some of the most vibrant brick-red foliage among the species. Dusted in blue, The Dwarf Port Orford Cedar's finely dissected gray-green needle-like leaves sculpt a dense slow-growing mound of artfully cascading branches. Both shrubs furnish a deer-resistant small-statured year-round presence that appreciates adequately moist, somewhat acidic niches.
Fetching February flowers and foliage...
While the blooms of Teucrium, Correa and many Hellebores open in January, they're still dressing up our garden in February. A handful of Brunnera flowers peek out by the middle of the month against a backdrop of welcome unfurling foliage. Of course, once the dazzling pendulous Corydalis flowers appear they tend to steal the show. We hope you'll be smitten by at least one or perhaps many of the plants that we featured in this newsletter.
All of us plant wranglers at the nursery, along with Boobah, our wee greeter and self-appointed nursery manager, and shy kitty, Parker, wish you countless happy hours digging in a garden of your own!
Please fill out our Registration Form to receive news of updates to the web site, availability of new plants, give us your feedback, and to be on the mailing list to receive future printed catalogs.