The species of this widely distributed genus of cool season grasses are evergreen in milder climates. The jointed, bamboo-like flower stalks lend an Asian look to many of the showy varieties. The flowers are stunning in morning and end of the day light, and in the breezes of any hour.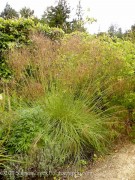 Like a fountain, the green, bronze and golden narrow blades are upright and arching. Slightly dry soils will intensify the copper tones of this graceful, clumping evergreen Stipa. While grown mostly for its delightful form and color, the subtle inflorescences appear as a fine mist, tinged with small purple and golden seed capsules known as awns.
Blooms June–September
Size: 2' 0" high x 2' 0" – 3' 0" wide.
Hardy to zone 8.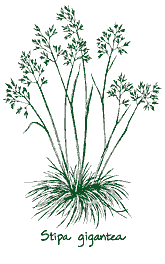 Native to Africa and southwestern Europe, this cool season grass boasts 7 ft. tall, jointed stalks, resembling lean bamboo, with airy 10 in. panicles of oat-like flowers that emerge as purple-on-green, then ripen to pale metallic gold. The unforgettable floral display continues all fall and looks fabulous in cut arrangements. Defined by tidy, narrow green blades, a dense fluid-looking 2 ft. hummock remains evergreen where winters are mild, and where summers are hot and humid, it favors sunny fast-draining sites. We recommend a gentle breeze and backlighting for full effect.
Blooms June–November
Size: 6' 0" – 7' 0" high x 4' 0" wide.
Hardy to zone 7.
Hailing from Down Under, Australia's 'Pillar of Smoke' explodes with 6 to 8 in. whorl-branched panicles of silky copper-colored flowers that age to a smoky silver. The amazing floral plumes are held on sturdy, jointed stems amidst towering clumps of bright green foliage.
Undaunted by wind, poor soils and some drought, this strong-growing, cool season evergreen is perfect for southern and western gardens, as well as coastal sites.
Blooms February–September
Size: 6' 0" – 7' 0" high x 3' 0" wide.
Hardy to zone 9.