If you have always wanted an Acanthus but couldn't squeeze one into your garden, you'll be pleased to discover this compact smaller statured Bear's Breech. The pagoda-style tower of white and purple hooded flowers rises proudly from a textural, 18 in. tall lustrous rosette, fashioned with finely chiseled dark forest green leaves. Though Acanthus caroli-alexandri's origins are uncertain, some say it's a form of Acanthus hungaricus, while others claim it's a hybrid between Acanthus spinosus and Acanthus hirsutus its bold lacy accents are sure to turn heads in a tight spot or a more expansive planting.
Blooms June–July.
Size: 3' 0" – 4' 0" high x 2' 0" wide.
Hardy to zone 6.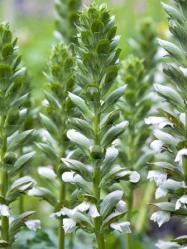 A lustrous mound of large, deeply lobed green leaves entertains majestic straight-up silvery green spires, composed of big pure white flowers that protrude from prominent canopy-like green bracts. With elegance and architecture to spare, this rarely offered perennial can be utilized as a statuesque pathway sentinel or as a compelling specimen in a mixed border. 'Rue Ledan' tolerates shade, wards off mildew and stays fresh in a cut arrangement for nearly 2 weeks.
Blooms June–July
Size: 3' 0" – 4' 0" high x 2' 0" – 2-1/2' wide.
Hardy to zone 7.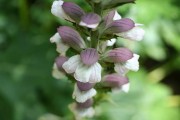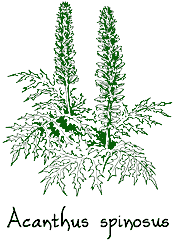 Hailing from the eastern Mediterranean, this bold statuesque perennial is as strong as a gladiator, and equally commanding. Held on lengthy stalks, the deeply divided, 2 to 3 ft. long leaves are glossy and very dark green. Spiny-looking, though not too sharp, the leaves' erect yet arching architecture were the inspiration for the decorative crown on Corinthian capitals. Mysterious, 2 ft. tall wands of Foxglove-like flowers rise above the imposing mound. Long-lasting and excellent for arrangements, each white-lipped blossom is anchored by a green-gray bract and nearly hidden by a decorative, hood-like purple calyx.
Blooms June–July
Size: 3' 0" – 4' 0" high x 2' 0" – 3' 0" wide.
Hardy to zone 6.