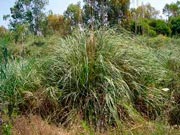 A Mediterranean denizen, this stately grass yields fine textured evergreen blades tough enough to fashion ties, ropes and baskets, and large enough to make an imposing focal point in your mixed border. Lofty upward arching stems race skyward, asserting mostly one-sided pearl-colored panicles above a dark green clump-forming mound, while airy purple-flushed inflorescences invite birds and gardeners alike. Robust Rope Grass maintains its majestic composure throughout the winter and requires a sheltered, sunny position with well-drained soil.
Blooms July–November
Size: 9' 0" high x 3' 0" – 4' 0" wide.
Hardy to zone 8.