Wild Ginger
Stretching out by underground rhizomes, the Wild Gingers are handsome woodland dwellers whose large-leafed, low growing colonies flourish in moist, shady niches. Long petioles elevate their polished, usually heart-shaped foliage while darkly colored, three-lobed blooms add intrigue.
Sojourning in the dark wooded areas of western North America from California to British Columbia and Montana, this lustrous semievergreen perennial presents bold heart-shaped bright green leaves that smell like ginger when they're crushed. Wide-spreading rhizomes sprout a low somewhat open patch, augmented by long slender petioles, silky new growth and intriguing triangular rusty-brown blooms. Ideal as an understory ground cover, Wild Ginger resists slugs and deer, enjoys loose organic soil, adapts to moist or dry conditions, and makes a verdant companion for Polygonatum 'Variegatum', Anemone 'Snow Angel' and Dryopteris 'Brilliance'.
Blooms April–June
Size: 6" high x 18" wide.
Hardy to zone 7.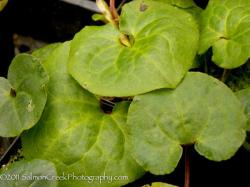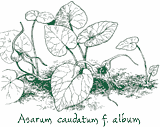 A lover of loose leafy soil, this native of western North America grows in the deep shade of redwood forests and pine woods, spreading its rhizomes to form wide patches of foliage. The 3 petals of the earthy wine-colored flowers end in long tapering wisps under deeply embossed, heart-shaped leaves. Combined with Beesia deltophylla, which is equally shade-loving, the red colors are even more enchanting.
Blooms April–June.
Size: 4" – 6" high x 0" & spreading wide.
Hardy to zone 7.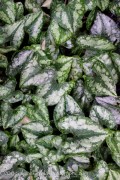 "Splendid" seems like too modest a word to proclaim the elegance of this gingers foliage! Glistening, broadly arrow-shaped, deep green leaves flaunt dramatic silver marbling and come spring, 2 in. wide dark purple blossoms with white throats. Situated among Podophyllum hexandrum, easy-to-grow Asarum splendens sculpts a show stealing, illustriously patterned ground cover in just a few years that appreciates warm, humid summers while resenting cool ones.
Blooms April–May
Size: 8" high x 0" & spreading wide.
Hardy to zone 6.