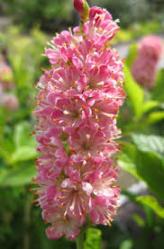 A friend to gardeners, butterflies and bees alike, 'Ruby Spice' celebrates a compact well-groomed habit plus long-lasting rosy pink bottlebrush-like flower spikes that sweetly perfume the dog days of summer. Lustrous, deep green serrated leaves develop yellow, gold and chocolate autumnal hues, while the delightful narrow upright panicles morph into intriguing dark brown seed capsules. Discovered in 1992 as a sport of Clethera alnifolia 'Pink Spire', this attractive deciduous cultivar exhibits outstanding easy-care versatility, tolerating both full sun and full shade. Whether massed, displayed as a specimen or hedged, it is invaluable for patios, smaller spaces, woodlands, cottage gardens and mixed borders.
Blooms August–September
Size: 4' 0" – 6' 0" high x 3' 0" – 5' 0" wide.
Hardy to zone 4.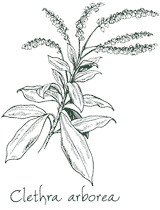 A resident of the Madeira Islands, this winsome evergreen is densely attired in lustrous coppery green 4 to 6 in. long leaves. Copious small white fragrant flowers, resembling Lily-of-the-Valley blooms, embellish large showy rose-tinged panicles that cluster at branch tips from summer to fall and sustain our interest with round long lasting auburncolored seed heads. Tailormade for narrow sheltered spaces, Clethra arborea's wellgroomed upright frame requires protection from hard freezes and savors moist, freely draining acidic soil.
Blooms August – October
Size: 15" – 20" high x 8' 0" wide.
Hardy to zone 8.
Just like candles on a birthday cake, the larger, more upright flowers of this superlative Michael Dirr selection are a splendid sight. A glossy late spring flush of tooth-edged leafage in emerald hues sets the stage for the abundant creamy white flowers. Made even more dazzling by their spiced-honey scent, the 6 in. long blooms form nearly horizontal, close-knit cylindrical spires.
In autumn, foliage matures to a pleasing yellow. Strongly vertical, slightly downy brown branches and persistent seed spikes etch winter's somber landscape. With a compact mounding habit, this Clethra offers a winsome presence in small spaces, and is a choice feature for a patio pot. Give this easy-to-grow shrub moist, slightly acidic soil and, where summers are hot and dry, shade each afternoon.
Blooms late June–July
Size: 2-1/2' high x 3' 0" wide.
Hardy to zone 4.