Valued for their handsome evergreen foliage and easy care even when the going gets tough, this well groomed genus hails from the Southern Hemisphere. Their rounded, leathery leaves are borne in opposite pairs and garb a fast growing, sun-loving frame that appreciates good drainage, handles drought, wards off deer and begs an easily viewed position anywhere fine foliar texture is appreciated.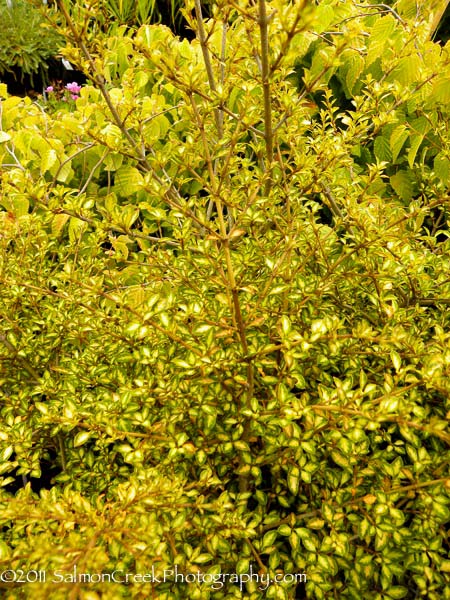 A twiggy stage where shadows and light become the cast, 'Beatson's Gold' captivates an audience with variegated foliage and a distinctive horizontal branching pattern. The narrowly oval, tiny leaves are lime-yellow and rimmed by a crisp dark green. Stiff and upright, this handsome New Zealand native can be planted as a specimen, a formal or informal hedge or as a screen. It happily resides in coastal climates, obliging nearly any soil type, especially very dry ones.
Size: 8' 0" high x 6' 0" wide.
Hardy to zone 8.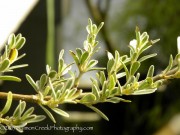 Because of the handsome horizontal growth of its long slender stems, and the exceptionally elegant variegation of its small lustrous leaves, this New Zealand native is a first-rate evergreen ground cover. Small, neatly cream-margined gray-green leaves display attractive, translucent white berries preceded by inconspicuous flowers. Its low-lying branches provide a deft transition between upright shrubs such as Rosmarinus 'Herb Cottage' or Cistus 'Bennett's White'.
'Variegata' willingly accepts a wide range of soils, can handle wind and salt spray, and promises a dense handsome form if pruned regularly.
Size: 12" – 2' 0" high x 4' 0" – 6' 0" wide.
Hardy to zone 8.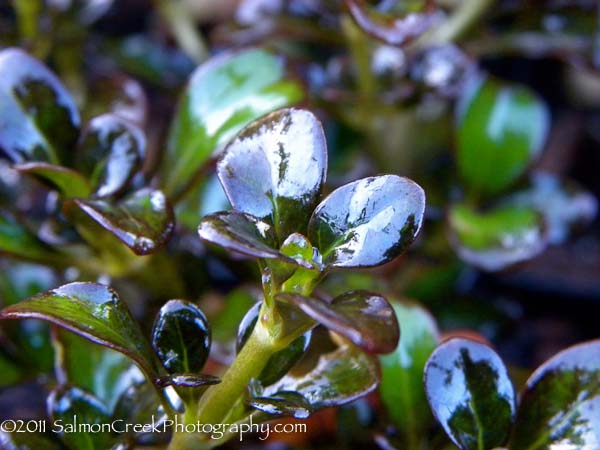 Accentuated by a marvelous surface so highly sheened it seems unreal, small, thick, almost succulent-looking foliage exhibits bronzy red and green hues. The lustrous, ovoid-shaped leaves angle upward while their tips curve down, and come winter transmute deep purply rubescent shades. Erect and not as wide-angled as 'Beatson's Gold', light-colored reflective stems define a compact bushy shrub that casts cozy glimmers on Mediterraneans or fellow New Zealanders like Uncinia rubra or Carex tenuiculmis.
Size: 4' 0" – 6' 0" high x 3' 0" – 4' 0" wide.
Hardy to zone 8.