Giant Seakale
Coined from the Greek word for "cabbage," this Brassica-related genus is relatively small, including about 20 annual and perennial species that bear dense racemes composed of minute flowers atop mostly leafless stems. Our European Crambe selections combine a commanding garden-worthy presence with easy-care sensibility.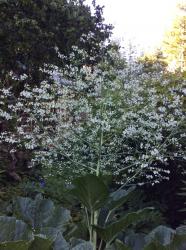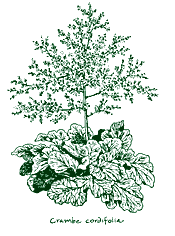 As it translates, "cabbage-style, heart-shaped foliage" is accurate but misses the big picture, and we mean big. Handsome, crisp green leaves, each measuring 12 to 14 in. long and wide, form a 2 to 3 ft. mound. A single stem, nearly 3 ft. tall, hosts a giant spray of tiny flowers, a loose haze of filigree in Paleolithic proportions. When cut, the fragrant blossom works like Baby's Breath. Dynamic as a specimen or background plant, Crambe adds high drama, even humor, to any situation.
Blooms June–July
Size: 3' 0" high x 2' 0" – 3' 0" wide.
Hardy to zone 5.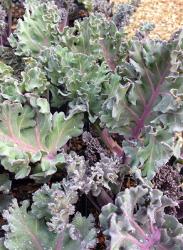 Mentioned in Thomas Jefferson's 1809 Garden Book and frequently served for dinner at Britain's Royal Pavilion during the late 1700s, this evergreen European seaside native is both a culinary and ornamental delight. The textural powdery-blue mound of thick, waxen and ruffled leaves gives way to stout branching stems topped by ample flower heads with myriad small, creamy-white blooms. Flaunting an AGM, a wondrous long-lived persona and savory nut-flavored notes, Sea Kale counts cabbage among its kin, detests root disturbance and favors sun as well as good drainage plus a rich sandy loam. Easily grown Crambe maritima braves poor soil, dry sites and windy coastal conditions.
Blooms June–July
Size: 2-1/2' – 3' 0" high x 2-1/2' wide.
Hardy to zone 5.