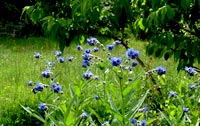 No, its not the blue, oh-so-vividly blue flowers, but the narrow, oblong basal foliage that inspired this Himalayan native's common name. While the older, rough-to-the-touch bottom leaves show distinctively raised veins, the upper, thinner ones alternate as they cloak the branched stems.
Profuse gentian blue blossoms, resembling those of its cousin forget-me-not, crowd uniquely coiled open sprays, which elongate as the older blooms fade. With an upright bushy habit, Cynoglossum nervosum has specific soil needs: not too dry or overly rich, but always well drained.
Blooms May–July.
Size: 18" – 2' 0" high x 2' 0" wide.
Hardy to zone 5.