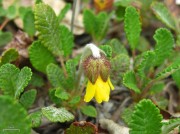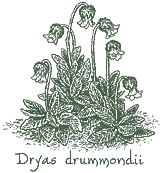 Inhabiting the chilly haunts of the Arctic, northern North America from Alaska to Newfoundland and south to Montana, this stalwart, dwarf perennial is named for the Greek nymph Dryas.
Oblong, evergreen and toothed, the glossy dark green foliage resembles tiny oak leaves with white wooly undersides. Leafy, creeping reddish stems form a loose ground-hugging mat that bronzes at the onset of winter. Nodding yellow bells held by decorative, brown-haired green calyxes ring in summer.
An ideal choice for the rockery or alpine garden, its long, silvery feathered seed heads keep our interest sparked, while a cool and open, well drained locale keeps this charming sun lover content.
Blooms June–July.
Size: 6" – 10" high x 12" wide.
Hardy to zone 3.