Wood Fern
One of the largest genera of ferns, Dryopteris adore light shade in wooded locales and evenly moist, compost-rich soil. Their attractive feathery fronds lend refined texture to the broader foliage of other plants, such as Hydrangeas, Ligularia and Astilboides.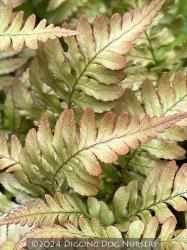 Once you've ushered this colorful easy-care fern into your woodland, you'll see how deceptive its common name is. While 'Brilliance' delivers toasty russet shades in autumn, the dynamic display actually commences in spring when young pink fiddleheads transmute vibrant reddish copper and pink hues, and then mellow to a bronzy green. Polished dark green and tropical-looking, mature fronds are embellished during the summer by dramatic bright red spores on their flipsides and contrasting henna-tinted new growth throughout the season.
'Brilliance' can be utilized as a tall textural ground cover or as a striking specimen that remains evergreen in milder areas and relishes even moisture and good drainage.
Size: 2' 0" high x 2' 0" wide.
Hardy to zone 5.
Polished, stiff and sumptuously dark green, this noble southern denizen forges an impressive nearly vertical clump of tall, leathery narrow fronds. Undeterred by heat, humidity and alkaline sites, Southern Wood Fern remains evergreen where winters are mild, relishing moist soil but also performing well in drier conditions. D. ludoviciana makes a verdurous no-fuss partner for Polygonatum o. 'Variegatum' in a shady border or woodland setting.
Size: 3' 0" – 4' 0" high x 18" – 2' 0" wide.
Hardy to zone 6.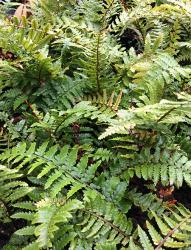 This easily grown, clumping Asian fern unfurls otherworldly black-stemmed croziers followed by lustrous evergreen fronds that stretch to 2 ft., sporting curious black fuzz at their bases. Wildly popular due to its erect princely appearance, D. pycnopteroides can be ensconced near water or in damp shady niches.
Size: 18" high x 2' 0" wide.
Hardy to zone 6.