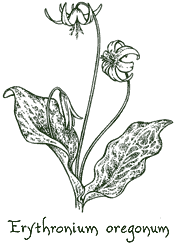 Some say it's the mottled leaves resembling a fawn's spotted back that evoke the common name, others think its the delicate thin stems and graceful flowers conjuring a young deer's light-on-its-feet stance. Either way this demure Pacific northwest native is sure to please.
A lustrous base of broad, ripple-edged green and brown foliage stage numerous, nodding decorative "lanterns" on tall stems. Warmed by butter yellow centers, the elegant blooms spotlight creamy alabaster-colored petals whose slender, pointed tips curve back.
A vigorous, undemanding woodland bulb for carpeting the ground beneath a native shrub such as Ribes, the White Fawn Lily appreciates a deep planting in well drained soil and dry conditions once the clump disappears in June.
Blooms April.
Size: 8" high x 10" wide.
Hardy to zone 5.