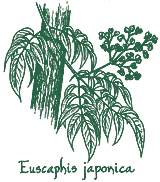 Mysteriously hard to find and a tree connoisseur's treasure, the exquisite Korean Sweetheart Tree is named for its splendid heart-shaped vivid cherry red seed capsules, which appear in fall and later unveil round shiny black seeds. Unparalleled deciduous foliageóthick, lustrous, emerald green and lanceolateógarbs the slow growing horizontal branches that manifest stunning purplish mocha-colored bark with milky white stripes.
Introduced by the late JC Raulston after a 1985 expedition to the Korean Peninsula, this lovely small tree celebrates year-round intrigue, remaining undeterred by drought, pests or disease. Euscaphis japonica's practical attributes abound: young buds are a Korean delicacy, while the fruit is cherished by birds and wildlife, the hewn wood crafts furniture, and various plant extracts yield soap, tannins and medicinal components. Large Band.
Blooms May.
Size: 20' 0" high x 10' 0" – 15' 0" wide.
Hardy to zone 6.