Summer Hyacinth
The most enduring trophy of Francis Galton, an explorer and authority on Southwest Africa, may be the summer Hyacinth, which blooms when so many perennials are past their prime. These bulb-forming plants are happiest in rich, well drained soil and need moderate water in the summer.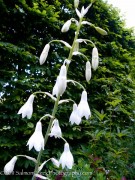 This versatile South African bulbous perennial is undeniably dramatic as lustrous strap-like green leaves send forth stout, erect 4 ft. stems topped by fragrant spikes of drooping, funnel-shaped white flowers, each with a subtle green tinge at its base. An asparagus relative, Summer Hyacinth looks best against a dark backdrop, makes an elegant addition to a bouquet and appreciates moist, well-drained, organic-rich sites plus protection from intense cold and hot afternoon sun.
Blooms August–September
Size: 4' 0" high x 12" wide.
Zone 6/7.
A moist cliff dweller from the lower altitudes of the Drakensberg Mountains, this Galtonia's blooms have an airy effect. Up to thirty waxed and creamy green tubular flowers with light green, central bands extend out from the stem and then look downward at varied angles. Anchored by erect, green basal straps, the pale, delicate blooms loosely dress its broad floral pillars.
Blooms August–September.
Size: 4' 0" – 5' 0" high x 12" wide.
Hardy to zone 8.
Named for its unusual lime-green flowers, which bloom earlier than those of Galtonia candicans, this species can accent the color and texture of Campanula 'Kent Belle'.
Blooms July–August.
Size: 3' 0" high x 12" wide.
Hardy to zone 7.