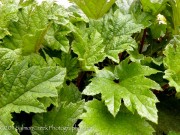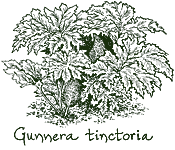 Everything about this amazing Chilean native is BIG! A super-sized perennial of prehistoric-looking, gargantuan magnitude, Gunnera tinctoria projects a bold, dignified persona.
Palmately lobed leaves with toothed and frilled margins unfurl to 5 ft. across atop thick edible stalks that emerge from underground rhizomes, rich in tannins. Launching a large cob-shaped inflorescence inhabited by tiny rusty red flowers, the enormous domed mound adds sheer mass and a coarse stiff texture to the landscape.
Although the Chilean Rhubarb sulks in high summer humidity, it is undemanding and quick to establish in moist areas, given A LOT of room and winter protection for the crowns.
Blooms September–October.
Size: 8' 0" high x 8' 0" wide.
Hardy to zone 7.