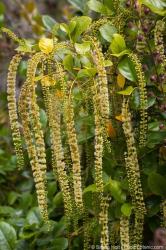 Discovered in 1895 along China's Yangtze River by Scottish-born doctor, botanist and linguist Augustine Henry, this long-loved swank evergreen won its first British garden award in 1911. Lustrous, alternate leaves with small holly-esque, soft spiny margins craft an impeccably tailored rich green foil for the dazzling, draped floral display that charms bees, flower arrangers and plant connoisseurs. Small, dense greenish cream-colored flowers resemble elegant, slender foot-long catkins and waft a sweet honey scent. Intolerant of drought, yet resistant to deer and rabbits, Holly-Leaf Sweetspire can be featured as an easy-care screen, a stylish mixed border specimen along a path or espaliered against a fence or courtyard wall. Adequate moisture, partial shade plus shelter from strong winds and hot sun guarantee its success.
Blooms late July–October
Size: 10' 0" high x 10' 0" wide.
Zone 6b/7.
A superb multiseason landscape shrub and a popular pollinator haven, this versatile semideciduous selection of the native species was discovered at Swarthmore College in the early '80s. Dangling from the tips of arching branches like thick strands of pearls, 6 in. long cylindrical racemes present petite, spicy-scented white flowers. The lustrous oval-shaped rich green leaves clothe a pleasing, upright and rounded compact habit that blazes long-lasting fall color marked by garnet-red, crimson and scarlet. Equally lovely en masse or as a specimen, easily grown 'Henry's Garnet' adores low-lying damp areas, yet withstands dry soil, heavy shade and full sun.
Blooms May–June
Size: 3' 0" – 4' 0" high x 4' 0" – 6' 0" wide.
Hardy to zone 5.