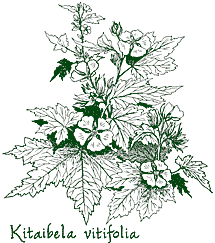 Indigenous to the damp meadows and grasslands from Slovenia to Macedonia, this robust, fast-growing perennial honors the famous Hungarian botanist Paul Kitaibel, who was born in 1757. Kitaibela vitifolia's grand clump of tall white-haired stalks forges a stately presence with large, lush, Grape-style deep green leaves distinguished by triangular pointed lobes, coarsely toothed margins and long petioles. Its handsome bushy verdure cushions clustered, 2 in. wide, white to tender pink, up-tilted, Mallow-like blooms, each premiering artful 5-pointed stars formed when green calyces appear between the spaced petals. Ideal at the back of the border in somewhat moist, but well-drained soil, carefree Russian Hibiscus can accompany Centaurea ruthenica and Aconitum 'Stainless Steel'.
Blooms July–September
Size: 5' 0" – 6' 0" high x 3' 0" wide.
Hardy to zone 5.