New Zealand Iris
Named for its colorful sword-like blades and for Marie Libert, a Belgian botanist who wrote about liverworts, this captivating New Zealand native belongs to the Iris family. Libertias prefer well-drained, somewhat moist soil and light shade in hot locales.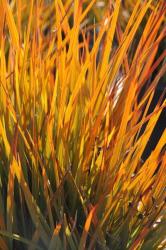 Naturally Native New Zealand Plants, a nursery from down-under, selected 'Goldfinger' for its bright foliar hues and tidy compact stance. Sparking gold and burnt orange central streaks, the narrow finger-like olive green leaves reach up and out from a low warm-colored evergreen clump, while starry bright white flowers and large yellow berries furnish additional appeal. Second-to-none for containers or tight spots, this lively Libertia can be planted near mates such as Sedum 'Matrona' and Bouteloua 'Blonde Ambition'. (PP#18,228)
Blooms June–August
Size: 18" high x 18" wide.
Hardy to zone 7.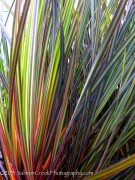 Offering year-round allure, compact upright clumps sculpt narrow fans of stiff leathery blades, each uniquely painted in green, yellow, orange, purplish red and bronze-hued stripes. Openly branched stems bear 3-petaled white flowers shaped like saucers that sparkle in spring and manifest intriguing orange seed pods in autumn; dark red shades invigorate the leaves during the winter months. 'Taupo Sunset' can grace a poolside or mixed border with broad-leafed companions nearby.
Blooms JuneľAugust
Size: 2' 0" high x 2' 0" wide.
Hardy to zone 7.