Due to extremely high demand, any orders received after April 18th may not be processed for approximately 2-5 weeks. Please know our dedicated plant wranglers are utilizing all necessary resources and working as diligently as possible to ship your plants in a safe and timely fashion. Thank you for your orders, as well as your patience and understanding in these difficult times. We wish you good health and happy digging!
New Zealand Iris
Named for its colorful sword-like blades and for Marie Libert, a Belgian botanist who wrote about liverworts, this captivating New Zealand native belongs to the Iris family. Libertias prefer well-drained, somewhat moist soil and light shade in hot locales.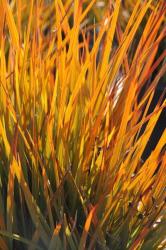 Naturally Native New Zealand Plants, a nursery from down-under, selected 'Goldfinger' for its bright foliar hues and tidy compact stance. Sparking gold and burnt orange central streaks, the narrow finger-like olive green leaves reach up and out from a low warm-colored evergreen clump, while starry bright white flowers and large yellow berries furnish additional appeal. Second-to-none for containers or tight spots, this lively Libertia can be planted near mates such as Sedum 'Matrona' and Bouteloua 'Blonde Ambition'. (PP#18,228)
Blooms June–August
Size: 18" high x 18" wide.
Hardy to zone 7.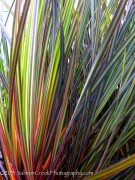 Offering year-round allure, compact upright clumps sculpt narrow fans of stiff leathery blades, each uniquely painted in green, yellow, orange, purplish red and bronze-hued stripes. Openly branched stems bear 3-petaled white flowers shaped like saucers that sparkle in spring and manifest intriguing orange seed pods in autumn; dark red shades invigorate the leaves during the winter months. 'Taupo Sunset' can grace a poolside or mixed border with broad-leafed companions nearby.
Blooms JuneľAugust
Size: 2' 0" high x 2' 0" wide.
Hardy to zone 7.