Due to extremely high demand, any orders received after April 18th may not be processed for approximately 2-5 weeks. Please know our dedicated plant wranglers are utilizing all necessary resources and working as diligently as possible to ship your plants in a safe and timely fashion. Thank you for your orders, as well as your patience and understanding in these difficult times. We wish you good health and happy digging!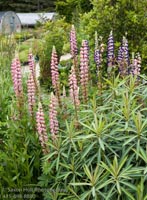 Lupine or Bluebonnet
Laden with tightset pealike blossoms, Lupine's sweetly scented, 10 to 12 in. spikes tower above good-looking foliage. Radiating out, like the fingers of a hand, rich green leaves collect glistening beads of water with their silky hairs.
Developed by George Russell, an English plantsman, these stately, June blooming hybrids present one of the longest and most spectacular floral parades at that time. A lover of cool weather and moist, well drained soil, Bluebonnets detest hot, humid conditions, and look their best planted in groups. We cultivated the following Russell hybrids from seed.