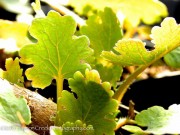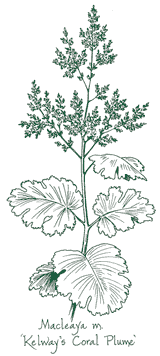 Equally at home in a cottage garden or a more formal setting, this commanding perennial manifests soft, easy-to-blend colors and a tall leafy presence. Quickly colonizing from a vigorous rootstock, sturdy upright stems are garbed with large, rounded and lobed foliage, gray-green on top, downy white below and cinnamon-hued come autumn. The two-toned leaves sparkle when the wind blows, while above thousands of tiny, copper-pink fluffy flowers converge on stiff slender branches, shaping light dreamy looking plumes. Relishing well drained soil, the Plume Poppy adds an architectural bent to a mixed planting of Sanguisorba 'Red Thunder', Euphorbia 'Excalibur' and Verbascum 'Pink Domino'.
Blooms August – September.
Size: 5' 0" high x 3' 0" wide.
Hardy to zone 4.