A denizen of southwestern China's forested mountains and thickets, this handsome evergreen hosts fuzzy cinnamon-colored buds plus plentiful 2 in. wide chalice-shaped creamy-white flowers defined by overlapping petals, bold sun-kissed stamens and a lavish fragrance that's added to perfumes. The posh blooms, each nestled in a leaf axil, illuminate lustrous dark green foliage with velvety bronze-haired flip sides. Developing into an undemanding large shrub or diminutive tree, Magnolia laevifolia can be utilized as a screen, textural hedge, topiary subject or mixed border specimen, where it readily responds to pruning, obliges a clip after flowering and relishes evenly-moist slightly-acidic alcoves.
Blooms March–May
Size: 10' 0" – 12' 0" high x 10' 0" – 12' 0" wide.
Hardy to zone 8.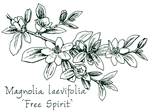 Unparalleled among its relations, this recently available exciting evergreen cultivar was discovered as a naturally occurring hybrid in Lytterton, New Zealand. The unique low growing branches craft a horizontally spreading frame attired with handsome polished leathery leaves and a downy-soft, deep copper-hued pubescence that promotes cozy warm accents. Held in an upward-facing fashion, the posh, ambrosial spring-time flowers arrive in long lasting pure white droves and sometimes offer a fall encore. 'Free Spirit' effortlessly charms a container, stone wall, slope or patio, savoring well-drained soil, bright dappled shade and shelter from extreme cold. (pp#24,534)
Blooms April–June
Size: 18" – 2' 0" high x 6' 0" – 8' 0" wide.
Zone 7/8.