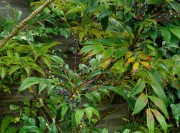 A 1980 British introduction by noted plantsman Roy Lancaster, this rare, widely praised Chinese native features dapper dark green leaves, flashing bright white undersides and dainty reddish pink cupped flowers with creamy yellow centers. Poised in airy splendor on lax slender racemes, the eye-catching blooms precede a plentiful display of large, bloomy blue-black fruit.
Mahonia gracilipes is a stellar and sturdy, slow growing evergreen, which favors partial shade in moist welldrained, humus-rich soil.
Blooms August – November.
Size: 4' 0" – 5' 0" high x 4' 0" – 5' 0" wide.
Hardy to zone 7.
Guaranteed to chase away those wintertime doldrums, 'Charity' spotlights an ebullient fountain of small, bell-shaped canary yellow flowers. The grandiose leaves—pinnate, spiny and matt green—grow in magnificent whorls along coarsely branched stems while arching, sweet scented racemes burst forth above. Waxy, late summer berries held in grapelike bluish purple clusters are relished by birds and spark our interest for another season.
Stellar as a statuesque specimen all year long, this upstanding evergreen develops an imposing vase figure that tolerates heavy clay, flourishes with a little shade on a loamy, well drained somewhat acidic site, and can be pruned back after flowering.
Blooms late November–February.
Size: 7' 0" – 10' 0" high x 4' 0" – 5' 0" wide.
Hardy to zone 7.