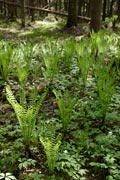 Long and arching, finely dissected fronds are distinguished by slender bases with broad midsections and dramatically tapered tips that evoke the elegance of an ostrich plume. Reputed to be a prized culinary delight melding asparagus and green bean flavors, fresh fiddleheads thrust upward in spring from spreading underground rhizomes, growing into dense, vase-shaped green clumps.
Hailing from the northern regions of North America, Europe and Asia, The Ostrich Fern's erect deciduous form is dramatic en masse and prefers a cool, moist shady realm, abiding some drought once established and providing welcome seasonal cover for wildlife.
Size: 4' 0" – 6' 0" high x 3' 0" – 8' 0" wide.
Hardy to zone 3.