Evening Primrose
A lover of sunny sites, this large genus produces cup shaped, papery, long blooming flowers. Most Oenotheras are indigenous to North America, and are easily grown in well drained soil, even if it's dry and lean.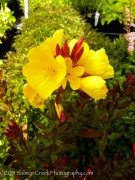 Ornamental orange-red buds, an over-the-top floral display and outstanding cold hardiness earned 'Fireworks' a 5-star rating at the Chicago Botanical Garden's recent Oenothera trail. Single, canary-yellow bowl-shaped blooms appear in scores, embellishing a prismatic foil of bronzy-green lance-like leaves with maroon overtones and compact red-hued stems. Admirable in the cottage garden or tucked among rocks, this highly treasured native Sundrop offers additional enticements when distinctive seed pods appear and burgundy-imbued leaf rosettes warm the winter landscape.
Blooms JuneľAugust
Size: 15" – 18" high x 12" – 15" wide.
Hardy to zone 4.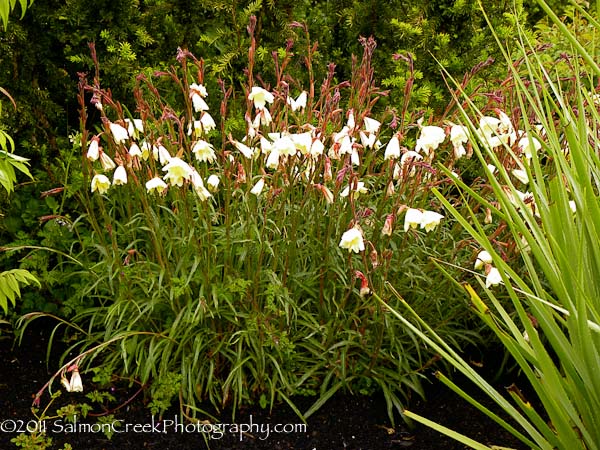 In 1790, this notorious beauty made its way from Patagonia to England in the pockets of a ship's surgeon. With flowers that are known for opening in perceptible movements at dusk, the Evening Primrose is a temptress that draws gardeners to her side as the sun goes down. The fragrant flowers, which begin as yellow, turn peach, and then shimmery coral-red, and the narrow, linear leaves, all crinkled and wavy-edged, make this plant a spectacular specimen in the rockery or in a more informal native setting.
Blooms May – August.
Size: 2-1/2' high x 2' 0" wide.
Hardy to zone 7.