This charming, New Zealand evergreen subshrub is ideal for intimate garden spaces, filling in and blending with many other types of plants. In early summer, the tidy fine textured mound of thin wine-colored branches and tiny, dark green glossy leaves is completely whitened by spires of delicate blossoms, each centered with a pink-ringed chartreuse eye.
Blooms JuneľAugust
Size: 12" high x 2' 0" wide.
Hardy to zone 7.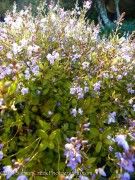 After just one close glance at its dainty upright clusters of petite, lilac-hued flowers set off by magenta-streaked petals and white and crimson centers, you'll find this adorable plant hard to resist. Small oval leaves, lustrous and prominently toothed, neatly line wine-hued stems, fashioning a dwarf low spreading mound that can be situated amid Heuchera 'Weston Pink' and Geranium 'Melinda'.
Blooms June – September
Size: 12" high x 2' 0" wide.
Hardy to zone 8.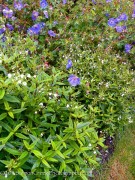 Graham Stuart Thomas referred to the Parahebes as 'little treasures', and once you get to know this charming New Zealand native you'll see why. Forming an easygoing, dense semishrubby plant, princely pairs of serrated deep green leaves, polished and narrow, extend from reddish stems that respond well to pruning. Unbelievably profuse and long blooming, the tiny, white cupped flowers are a study in delicacy, each with a green eye and magenta ring, while populating loosely arranged terminal clusters.
Roses, Geranium 'Orion' and Hydrangea 'Enziandom' spill over an unshorn evergreen hedge of Parahebe linifolia in our garden for a flowery summer time gala.
Blooms June – October
Size: 18" – 2' 0" high x 2' 0" wide.
Hardy to zone 8.