Flourishing in moist, humus-rich niches, Podophyllum's vigorous fleshy rhizomes form a substantial colony. Every part of Podophyllum is toxic except the ripened "apples," although recent studies indicate the entire plant contains promising medicinal properties including anticancer and other healing compounds.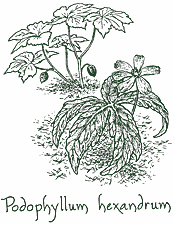 Heralding spring, this captivating woodland native of Asia Minor, the Himalayas and central China pushes a glossy green, folded umbrellalike leaf up through the soil at the top of each stem. A few weeks later, the deeply lobed, 10 in. wide foliage fully opens, described by black, purple and brown mottling, and a lone white-to-rose blossom. The pyramidal bud remains closed on cloudy days and unfurls delicate, translucent petals into a cup-shaped flower when it's sunny. The extraordinary show continues as glistening, egg-sized, scarlet-red fruit forms in late summer, suspended from the leaf axils on short stems.
Podophyllum hexandrum's fleshy roots take a couple years to establish, but eventually form a substantial colony.
Blooms April.
Size: 18" high x 18" & spreading wide.
Hardy to zone 6.