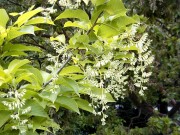 Here's a hard-to-find ornamental tree named for its extravagance of creamy white, fringy flowers that dangle in fragrant, drooping clusters 9 in. long and 4 in. wide. Branching low with a widespreading, but upswept habit, this deciduous tree develops a teardrop form if the lowest branches are retained.
The light green leaves, gray-green beneath, offer yellow fall color that persists for some time, and contrasts nicely with the gray snakeskin bark, enhanced by orange-tan streaks. Shown to advantage on the bare branches of winter, clusters of small, fuzzy gray fruit are a bonus in arrangements. Aside from its year-round loveliness, which is best viewed in an elevated position, Epaulette Tree can tolerate wind, and clay or sandy soil. Large Band.
Blooms June
Size: 15' 0" – 20' 0" high x 10' 0" – 40' 0" wide.
Hardy to zone 5.