Ornamental Rhubarb
Kin to the edible Rhubarb, these ornamental perennials spawn large brawny leafage and tall intriguing floral spires. Rheum can be utilized as a specimen in the mixed border, the landscape or skirting the water's edge. They require deep, rich soil and appreciate mulching in the summer to keep their roots cool, as they detest extreme heat.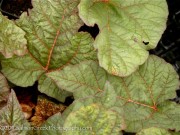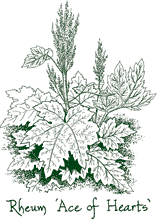 Lustrous, crinkled and richly red when they first unfurl in the spring, large spade-shaped leaves make a bold imposing statement all season long. The grandiose foliage matures to a handsome deep green on top and grows upright, flaunting prominent veins and opulent burgundy undersides, while starry pale pink blooms on tall flower spikes add a dainty touch.
Blooms June–July
Size: 4' 0" – 5' 0" high x 3' 0" – 5' 0" wide.
Hardy to zone 5.
Headlining a tall wondrous tower clothed in overlapping hand-sized creamy yellow bracts that veil its insignificant flowers and seeds, this magnificent perennial hails from the high altitude, lush marshy meadows and stream sides of Tibet and western China. Deep roots sprout a lustrous, low basal rosette defined by distinctive white-veined lance-shaped leaves. The long lasting scalelike bracts become streaked with burgundy, while autumn brings fiery claret and orange to the foliage.
A seldom-offered rarity, Alexander's Rhubarb delivers extraordinary architectural panache to a sunny, yet cool, rich damp location.
Blooms May – July.
Size: 3' 0" high x 18" wide.
Hardy to zone 5.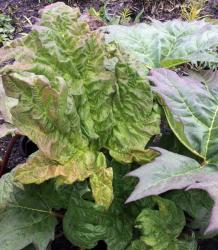 One of the most pleasing of the tall ornamental rhubarbs, this prehistoric-looking specimen has colossal divided leaves that first emerge in reddish bronze tones. Warm weather brings dark green foliar hues on top and purple-infused undersides plus airy maroon panicles surmounting towering flower stalks. Later red shades enliven the foliage for a notable fall finale. Stage with another dynamic performer like Veronicastrum 'Adoration'.
Blooms June–July
Size: 6-1/2' high x 5' 0" wide.
Hardy to zone 5.