Thrusting upward from fleshy roots late in the spring, Roscoea's green stems are sheathed by alternate glossy foliage, while its large lobed flowers possess an otherwordly appeal. An exotic-looking genus that counts Ginger among its kin, these Tibetan and Nepalese natives appreciate a deep planting and a thick layer of mulch for winter protection.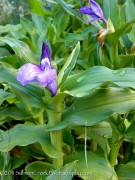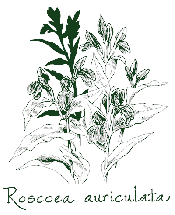 Its grass green leaves are long and lance-shaped. Held on short terminal spikes, the brilliant purple flowers resemble orchids, and display white to pale violet markings on each petal. To create intrigue, plant on the edge of the woodland garden with Heuchera, Tiarellas, and Tricyrtis.
Blooms July–September.
Size: 16" high x 16" wide.
Hardy to zone 6.
Once described by British garden author, William Robinson as possessing "...a beauty quite apart", this rare Chinese woodland perennial lives up to its reputation as its large, openly hooded ghostlike blooms hover just above tall, lush-looking narrow leaves. Bathed in pale moonlit yellows, the exquisitely strange, yet elegant flowers impart a cool luminosity to a drift of Disporum 'Night Heron'.
Blooms June–July.
Size: 18" high x 12" wide.
Hardy to zone 6.