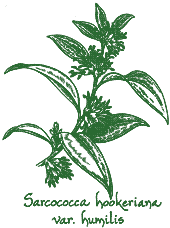 This tiptop Himalayan denizen lends evergreen finery and heavenly winter fragrance to a shady locale. Crafting a low, well-groomed textural ground cover, slowly creeping stolons sprout 18 in. stems clad in lustrous, narrow dark green leaves. Copious, tiny white flowers and round blue-black fruit heighten allure. Tailor-made for hedging, enhancing entrance ways or carpeting the woodland garden, Dwarf Sweetbox keeps deer at bay plus appreciates regular watering and an annual shearing to sustain its dashing appearance.
Blooms March–April
Size: 18" – 2' 0" high x 3' 0" – 4' 0" wide.
Hardy to zone 6.
Promoting its parent's choicest qualities, this handsome Sarcococca humilis and Sarcococca hookeriana hybrid was masterminded by esteemed plant breeder Peter Moore from Hillier Nursery. Clustered cardinal-colored buds, prolific sweetly scented white blooms and spherical red berries are cozied amid close-knit low-lying stems with larger-than-average polished dark green leaves. An indispensable evergreen for the winter garden that abides shade and periodic dry soil, 'Winter Gem's resilient habit can be featured in containers, planted as a gleaming ground cover or clipped into a small easy-care hedge. (pp#26,599)
Blooms February–April
Size: 12" – 2' 0" high x 12" – 2' 0" wide.
Zone 6b/7.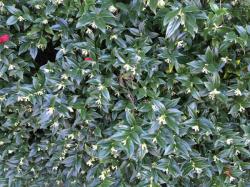 Nearly identical to it's handsome cousin, Sarcococca humilis, save only for a larger stature, this natty Sweetbox's compact quiet beauty delivers a wintertime delight when small tassel-like milk-white blooms waft a delectable vanilla scent. Graceful arching stems, densely cloaked in polished deer-resistant dark green leaves, are festooned with globular blood red berries, which eventually turn black and impart additional early season appeal. An 1887 discovery in central China by Scottish physician Augustine Henry, easy-care Sarcococca ruscifolia endures deep shade as well as somewhat dry soil and can be hedged, planted near a well-traveled pathway or trained upwards on a patio wall as an evergreen espalier.
Blooms February–early April
Size: 3' 0" – 4' 0" high x 3' 0" – 4' 0" wide.
Hardy to zone 7.