Japanese Hydrangea Vine
Who wouldn't want a Schizophragma in their garden if only because it's such a fun word to say? This genus of tall growing deciduous vines and showy flowers is little known in the U.S., but in the deep forest outside Hokkaido, Japan it grows everywhere. Try planting your Japanese Hydrangea Vine at the base of a wall or a tree trunk and watch it climb!
Large Band.
Ringed with porcelain-colored bracts, the grand lacy white flowers of this hard-to-find cultivar can grow up to 9 in. across. 'Moonlight' is distinguished by its striking heart-shaped leaves, whose deep green veins and silvery overlays create an intriguing pattern, and in autumn turn orange red. Perfect for the north side of the house, this vine promises to illuminate a shady area. Large Band.
Blooms July–August
Size: 30' 0" – 40' 0" high x 0" wide.
Hardy to zone 5.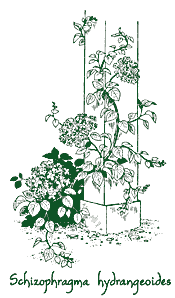 'Rosea' displays a splendid habit with interest in every aspect: rose-blushed bracts, mahogany stems, red-hued leaf petioles and handsome, toothed dark green foliage. Each thick, richly textured deciduous leaf is polished and grows in an elongated heart shape. This climbing Hydrangea will dress up a somber wall in your garden. Medium Band.
Blooms July–August
Size: 0" high x 0" – 40' 0" wide.
Hardy to zone 5.