Skullcap
Late in the season, after the charming hooded blooms have faded, pairs of scallop-shaped, warmly colored seed capsules, resembling small inverted skullcaps, add intriguing detail to these Mint family members. Our easy-to-grow selections appreciate a sunny, quick-draining site, and happily mingle with medium-sized Euphorbias, Diascias and Nepetas.
The species originates in the mountains of southern Europe and Russia, and this 'Moonbeam's lush and low bushy mat of scalloped, ovate green-gray leaves is an excellent foil for its crowded clusters of light yellow blooms. Trailing stems turn upward and, at their tips, Snapdragon-like flowers form a four-sided raceme.
Requiring well drained soil and shade during hot afternoons, this little treasure goes well in a container, or in the rockery with Edraianthus graminifolius and Origanum libanoticum.
Blooms May–September.
Size: 10" high x 12" wide.
Hardy to zone 5.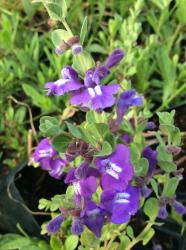 Legendary for its tenacious ability to conquer hot sunny niches, this engaging well-groomed Kansas denizen was introduced by the Nebraska Statewide Arboretum. Small, oval-shaped pubescent gray-green leaves and branching, upright square stems cushion a showy, long-lasting display of tubular deep blue-violet flowers, each highlighted with 2 small white streaks. Relishing minimal fertility plus sharp drainage, 'Smoky Hills' is second-to-none when massed as a low mounding ground cover that readily enhances borders, meadows, rock gardens and native plantings while warding off the bunnies.
Blooms May–July
Size: 6" – 12" high x 10" – 14" wide.
Hardy to zone 4.
For its tidy swath of dark pink infill, the masses of Snapdragon-like blooms adorning the diminutive, glossy green foliage of 'Texas Rose' get our vote. With a dainty, yet durable, low profile, it makes an endearing addition to the rockery, or along a pathway nestled amidst Dianthus 'Mendlesham Maid' and Geranium 'Johnson's Blue'.
Blooms mid-June–mid-October.
Size: 4" – 6" high x 15" wide.
Hardy to zone 7.