Due to extremely high demand, any orders received after April 18th may not be processed for approximately 2-5 weeks. Please know our dedicated plant wranglers are utilizing all necessary resources and working as diligently as possible to ship your plants in a safe and timely fashion. Thank you for your orders, as well as your patience and understanding in these difficult times. We wish you good health and happy digging!
This genus in the Iris family includes the familiar wildfloweres Blue-eyed Grass and Yellow-Eyed Grass.
Endemic to damp open woods, fields and slopes throughout the eastern and southeastern U.S., this unusual white blooming form of the more commonly known, Blue-Eyed Grass was kindly given to us by grass aficionado, John Greenlee. Perfect for cut arrangements, delicate 6-petaled starry blossoms with golden eyes illuminate attractive loosely arranged flower clusters rising on winged branching stalks. The neat foot long green leaves compose a compact Iris-like tuft that prefers well-drained sufficiently moist crannies, favors being divided every 2 or 3 years and looks best when massed in cottage gardens, native plant settings, border fronts and rockeries./p>
Blooms May–June
Size: 12" – 18" high x 6" – 12" wide.
Hardy to zone 4.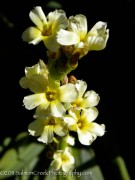 Native to Chile, this elegant member of the Iris family is notable for its creamy multitudes of pale yellow blooms; each is centered with a deep buttery colored eye, and the back of each petal has a pronounced purple stripe—hence the epithet "striatum." The slender flowering stems arise from erect, evergreen clumps of spiky green-gray leaves that extend to 18 in. Set off Yellow Blue-Eyed Grass with the dark, leafy foliage of Eupatorium 'Chocolate'.
Blooms June–July.
Size: 2' 0" high x 2' 0" wide.
Hardy to zone 7.