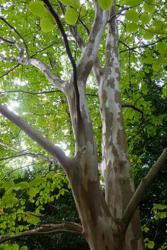 Some 200 years ago, at the opening of Kew Gardens, John Stuart, Earl of Bute, presented a Stewartia to the Welsh Princess Augusta; the honor was somewhat skewed by the misspelling of the Earl's name. His choice is still prized for its year-round attributes. Orange, gray and reddish brown exfoliating bark bestows an extraordinary winter aspect, while the magnificent bee-friendly profusion of cupped, yellow-centered, white flowers resembles Camellias, appearing in summer when few woody plants are blooming. Finely toothed, bright green leaves transmute deep bronze and purple-red autumnal colors. Unparalleled when planted in a grove, by a sitting area or as a focal point, Japanese Stewartia requires ample moisture, good drainage, lime-free soil and protection from hot sun as well as wind. Grows slowly.
Blooms late-July–August
Size: 22' 0" high x 12' 0" wide.
Hardy to zone 5.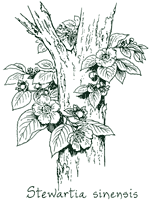 This small shrubby Chinese denizen vaunts a lot of four-season luxe: copious cup-shaped white flowers, fabulous exfoliating bark and handsome toothed dark green leaves, which brandish bronze-toned new growth plus bright crimson fall color. Exquisite camellia-like scented blooms line upward arching branches, while long artful cinnamon-colored strips peel off, revealing a marble-smooth light rosy tan finish beneath. Ideal for a small garden, courtyard, informal setting or a woodland's edge, Chinese Stewartia can be ensconced amid Oakleaf Hydrangeas and skirted by swaths of Sesleria and Calamagrostis foliosa. A protected, yet somewhat bright abode with acidic well-drained, humus-rich soil ensures its vitality. Grows moderately
Large Band
Blooms July–August
Size: 15' 0" – 25' 0" high x 10' 0" – 15' 0" wide.
Hardy to zone 5.