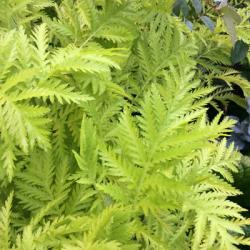 Be careful! Legend tells us that this herb, mixed into salad, helped married couples conceive! With deeply incised, yellow-green foliage, 'Isla Gold' is a blithe light in the garden border, holding its bright color and form throughout the summer. Shear off yellow flower clusters to prolong the gilded display. Its carefree, open demeanor provides a delicately feathered backdrop for the dramatically dark leaves of Heuchera 'Obsidian'.
Blooms July – August.
Size: 2-1/2' – 3' 0" high x 3' 0" wide.
Hardy to zone 5.