Foam Flower
This easy-to-grow, clump-forming evergreen is one of the finest spring flowering woodland perennials.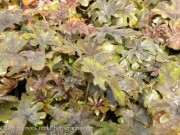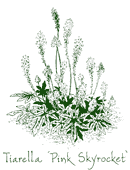 'Pink Skyrocket', a Terra Nova introduction, is one of the best pink flowering cultivars in the genus. Dissected Maple-like leaves, engraved with dark chocolate central blotches, shape a lush shiny green mound. "Skyrocketing" on tall sturdy stems, large, perfect-for-cutting spires are studded with round rosy buds and frothy pink and white star-shaped flowers. En masse, as an understory or along the border, this easy-to-grow, clump-forming evergreen works well skirting Viburnum, the Sichuan Deutzia and Sambucus. (pp#13382)
Blooms March – May.
Size: 12" high x 12" wide.
Hardy to zone 4.